Enter a "School Spirit" Photo to Win a Canon Camera
January 28, 2019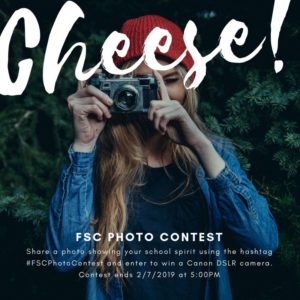 FSC's Centennial Commencement Ceremony is May 21, and to help kick off the semester-long celebrations is a student photo contest. Not just any photo, but one that shows your idea of FSC school spirit. If you win, a Canon PowerShot SX530 HS camera is yours.
You may submit as many entries as you like, with the hashtag #FSCPhotoContest, by Thursday, 2/7, 5 p.m. All entries must be submitted on Twitter or Instagram using #FSCPhotoContest.
The winner will be announced  Monday, 2/11 at the Centennial Commencement kick-off event, in the Campus Center Ballroom.