Author Speaks About Fish Sticks… as in the Infamous 1990's NY Islanders Logo
Tuesday, February 12, 2019 11:00am - 12:00pm Roosevelt Hall Little Theater
Past Event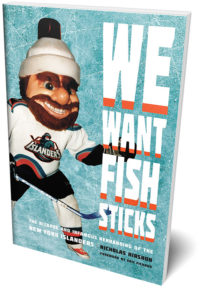 We Want Fishsticks by Nick Hirshon
The 1990's rebranding of the New York Islanders hockey team – which elicited merciless derision from fans and media over a new logo that was likened to the Gorton's sea food fisherman – is the subject of a lecture February 12 by Nick Hirshon, author of We Want Fish Sticks: The Bizarre and Infamous Rebranding of the New York Islanders.
Hirshon, an avid Islanders fan and former reporter for the New York Daily News, first wrote about the marketing debacle in his doctoral thesis, with the idea that he would turn it into a book. We Want Fish Sticks goes deep inside both the process that hatched the campaign, and its painful execution.
"As a former journalist, I consulted every source possible to tell the complete story of the fisherman logo," said Hirshon. "I interviewed 53 hockey insiders associated with the rebranding, from the logo's designer, to two dozen players, to broadcasters. I even spoke with two guys who played the mascot, Nyisles, and the attorney who filed the trademark form for the fisherman logo. I also went through hundreds of newspaper articles, game programs, and television clips. I hope readers will see how much work went into making We Want Fish Sticks."
The team's rebranding was a response to a series of poor seasons, and an effort to give the team a jump-start into the 1995 season. The Islanders dropped their distinctive logo, which featured the letters NY and a map of Long Island, for a cartoon fisherman wearing a rain slicker and holding a hockey stick. The new logo conjured images of the Gorton's fisherman, and soon opposing fans were chanting "We want fish sticks."
The rebranding featured the logo, a new mascot, and new uniforms. At the same time, the team imported new players and a new coach, and were bought by a new owner. The ill-conceived campaign lasted 28 months.
In addition to his presentation, Hirshon will interview Patrick Calabria, former Islanders VP for Communications, about the inside story on how the logo plan unraveled. Calabria, who was directly involved in the logo rebranding, is now Farmingdale's Vice President for Institutional Advancement and Enrollment Management.
"Pat was so cooperative and generous with his time during my research for We Want Fish Sticks," Hirshon said. "He shared many insights about the Islanders' rebranding process that only someone in his position as an executive would know. I am grateful that he was so open and thoughtful during our interviews, and I'm looking forward to the opportunity to have a conversation on stage."
We Want Fish Sticks is Hirshon's third book. He is assistant professor of communication at William Paterson University, New Jersey.

(L) NY Islanders logo. (R) Gorton's Fisherman logo
Published on January 28, 2019