Artist Tim O'Brien Talks About His World-Class Illustrations on Display at FSC
Tuesday, February 12, 2019 11:00am - 12:00pm Gleeson Hall Room 104
Past Event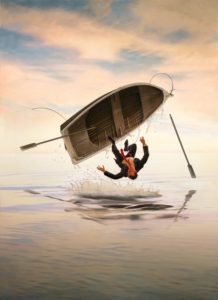 The Boat by Tim O'Brien
Renowned illustrator Tim O'Brien – whose work is on display at Memorial Gallery 2/4 – 4/12 – will lecture about his award-winning illustrations, which have appeared in publications such as Time, Rolling Stone, Smithsonian, National Geographic, GQ, and The New York Times.
Working out of his Brooklyn studio, O'Brien has done work for most major book publishers and advertising agencies, and has illustrated several U.S. postage stamps. His awards include the Society of Illustrators, Graphis, the Society of Publication Designers, the Art Directors Club, and more.
O'Brien is also a member of the adjunct faculty at Pratt Institute.
In addition to the lecture, there will be a reception for O'Brien at Memorial Gallery on 2/12, 5 – 7 p.m.
The exhibit is curated by gallery director Beth Giacummo.
For more information, contact Yolanda Segarra; 631-420-2180.
Help spread the word. Print and post this flyer.
Published on January 28, 2019