Peer Tutors Wanted. Get Paid to Help a Fellow Student
December 3, 2018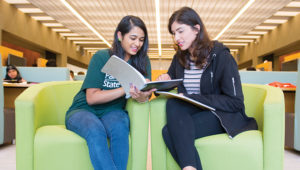 The Tutoring Center is hiring tutors for the spring semester.
All tutoring positions are paid (rate to be announced). The job requires a commitment of at least five hours a week for the entire semester. Peer tutors must have a cumulative GPA of at least 3.0; completed and received an A or A- in the course(s) they wish to tutor; and a faculty recommendation form submitted by one of their professors.
The ideal peer tutor loves to help others succeed, and is responsible, mature, and approachable. You will be required to work with a diverse student body, while maintaining a professional demeanor at all times. The position looks great on a resume, and provides a boost on graduate-school applications.
For more information and to apply online, click here and look for the "Become a Tutor" link.
If you have questions, e-mail the Tutoring Center or visit the staff in Greenley Library Room 211.
Applications will be accepted through January 2019.