Fill the Patrol Car…with Food
December 3, 2018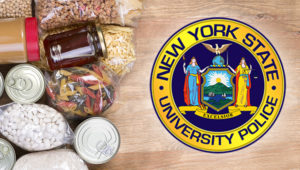 University Police is sponsoring a food drive, and the goal is to fill their pick-up truck with 500 pounds of non-perishable nutritious goodies. The vehicle will be parked in front of the Campus Center, from 10 a.m. – 8 p.m., Tuesday, 12/4 and Wednesday, 12/5. After hours look for bins in the Campus Center.
All food collected will go to Island Harvest.
Print and post this flyer – Fill the Patrol Car.