Physics Lovers Investigating Future Energy Sources
October 22, 2018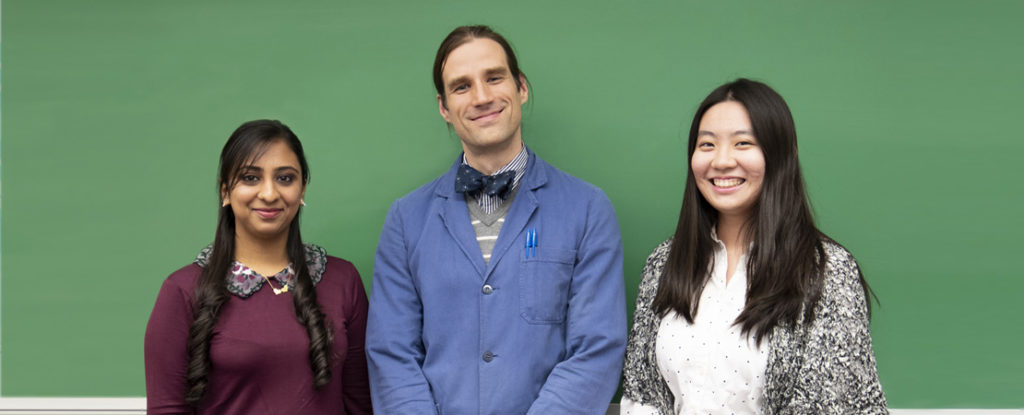 Nida Rajput, Dr. Jack Simonson, Bingying Xia
There are applied learning opportunities, and then there are APPLIED LEARNING OPPORTUNITIES. Such is the case for Nida Rajput '19 and Bingying Xia '20, bioscience students doing physics research at Farmingdale.
What makes their project so special is that not only are they working on developing new and faster ways to discover materials that will contribute to the next generation of energy sources, but are working alongside scientists from Stony Brook and Columbia Universities, Brookhaven National Laboratory, and Oak Ridge National Laboratory.
Nida and Bingying are working at the GENESIS Center, a multi-institutional, multi-disciplinary research center operating out of Stony Brook University and funded by the U.S. Department of Energy. They were chosen for the program by Dr. Jack Simonson, assistant professor of physics at FSC.
"The best part of my job is working with these students," Dr. Simonson said. "Participating in undergraduate research showed me the path that led to my career, and I hope it does the same for them.  Can you imagine being 18-22 years old and discovering an entirely new material, never before known to man?  These students have already done just that."
"I've always wanted to pursue a career in science," said Bingying. "However, I didn't know what direction to go, and the GENESIS project allowed me to have a laboratory environment to work on a project with fellow collaborators."
"The GENESIS project has greatly enhanced my problem solving abilities, said Nida. "Additionally, this project allowed us to improve our communication and teamwork skills. We had to come together with our individual ideas to come to a concise direction for the project."
The students' participation in the project, said Rena Varghese, executive director of Farmingdale's Nexus Center for Applied Learning and Career Development, is a win-win: for FSC, and Nida and Bingying.
"Professors like Dr. Simonson, who promote and support the applied learning experiences of students, are an excellent example of the institutional collaboration at FSC. We're all working together to empower students and launch them on their career paths."