Free Film Screening about the Vietnam War's Tet Offensive
Wednesday, November 14, 2018 5:45pm - 8:15pm Altice USA, 1111 Stewart Avenue, Bethpage
Past Event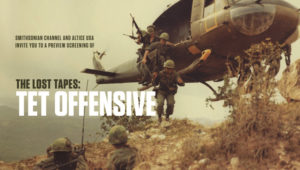 The FSC community is invited to a free preview screening of the new film, The Lost Tapes: Tet Offensive. After the screening, the film will air exclusively on the Smithsonian Channel on 11/18. Altice USA is a co-sponsor of the event.
The Tet Offensive was a series of surprise attacks by the Vietcong (rebel forces sponsored by North Vietnam) and North Vietnamese forces, on scores of cities, towns, and hamlets throughout South Vietnam. It was considered to be a turning point in the Vietnam War.
The film relies solely on media reports, rare 8 mm home footage, audio recordings and never-before-digitized tapes from the Vietnam War era, with no interviews or re-enactments – allowing viewers to re-live the dramatic events as they unfolded.
The screening will be held on Wednesday, 11/14, at the Theater at Altice USA's Bethpage location, 1111 Stewart Avenue. A reception begins at
5:45 p.m., and the film screens at 6:45 p.m. Following will be a Q&A panel. Eric Farina, Director of Veterans Services at FSC, is a panelist.
You must RSVP to attend the event.
Published on October 22, 2018