2019 Winter Commencement a Record-breaking Celebration
January 13, 2020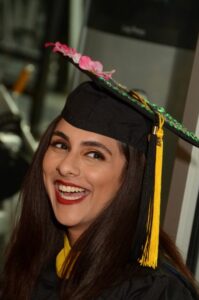 A record-breaking total of more than 500 graduates attended the 2019 Winter Commencement last month, with more than 2,000 parents, family, friends, faculty, and staff cheering them on.
More than 900 degrees were completed during for the winter commencement, including 12 Master's from the Technology Management program. Thirty-four graduates received a Student Award for Academic Excellence for being at the top of their programs, both academically and in community involvement. The ceremony was held at Nold Athletic Complex.
Following an inspiring rendition of the National Anthem by College Council member David Curry, Council President Dr. Patricia Hill Williams told the graduates, "We know you will do us proud and make important contributions to your field, your community, and the region. We hope that you will always remember that you are an alum of Farmingdale State College."
President Nader was next up, with welcoming remarks. He spoke about a number of achievements FSC was noted for in 2019, including rankings as a "best value" school by publications such as Forbes, Washington Monthly College Guide, Money, and The Wall Street Journal. He also cited how FSC graduates earn more their first year in the workforce than they owe in federal-loan debt.
President Nader went on identify a number of academic achievements earned by the College and its students. They include a well-above-average pass rate for nursing students in a key licensure exam; five FSC students interning at Brookhaven National Lab; and a team of Applied Mathematics students taking first place in a competition that included four teams from top-ranked NYU.
He then applauded FSC students and alumni who have excelled on campus and in the community, including Theresa Santmann, for whom the School of Health Sciences is named; Arthur Corwin '76, a construction industry giant who funds scholarships; Sylvia Nicosia '04, FSC's director of web programming, who is recognized state-wide for her work in web and digital accessibility;  Sonia Chemerisov, who last semester organized one of FSC's largest-ever food drives; Shamecqua Moore, whose award-winning article about the effects of gun violence has been published in The New York Times; and Darrien Hunt, organizer of the NAACP chapter at FSC.
Valedictorian Nicholas Michael Ferrigno, a Computer Programming and Information Systems major, warned of inevitable obstacles, but challenged  his classmates to meet them head on.
"So rather than putting it off one day, and then another after that, take hold of your life and yourself at this very moment. I can say with absolute certainty that the future can be bright for each and every one of you, but it is now up to you to make that future a reality."
See this photo album of dozens of commencement photos.