In 2013 SUNY designated this garden as one of "Six Big Ideas, With Unlimited Potential," highlighting the garden as an example of the Power of SUNY.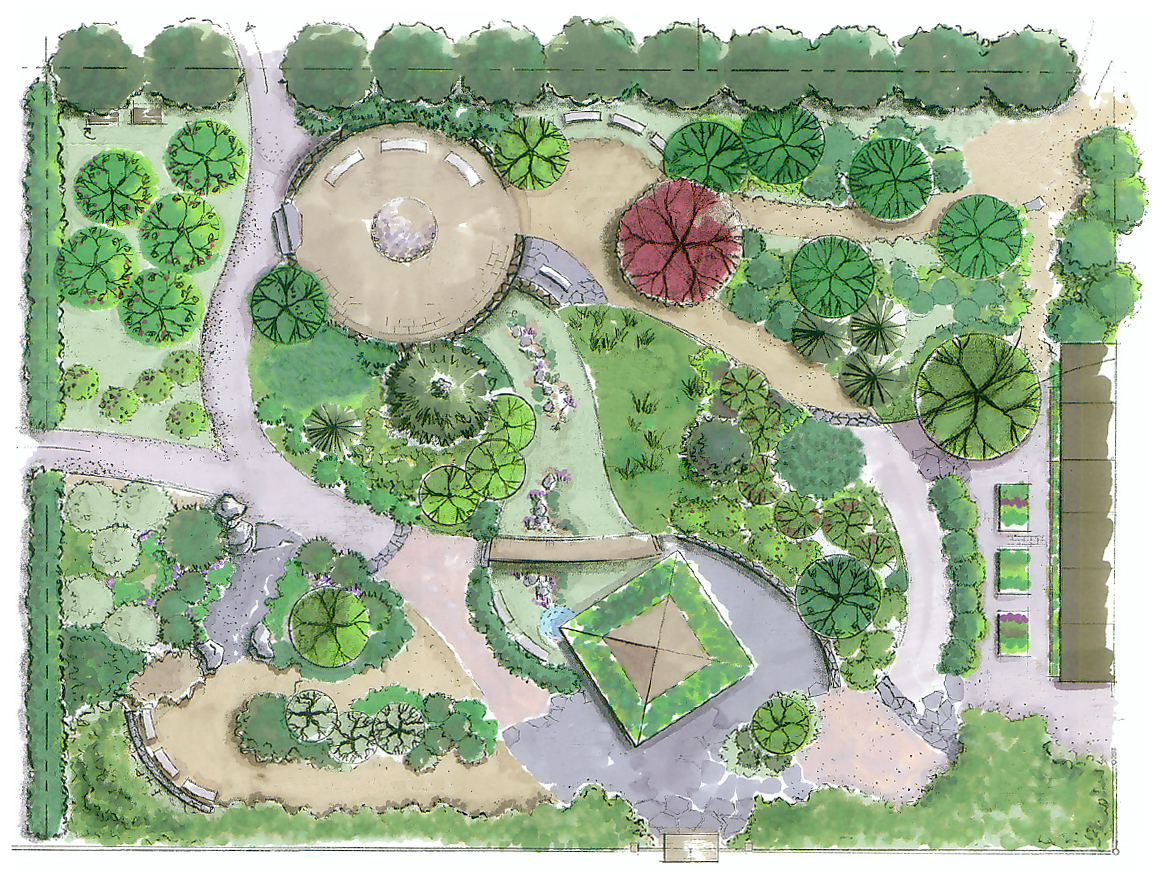 The Sustainable Garden instigates a whole systems approach and promotes working, productive, ornamental landscapes by developing a new aesthetic ideal blending together ornamental and edible plantings. The former nursery site features unchecked invasive plantings and highly disturbed and compacted soils, suitable for testing sustainable landscape development strategies.
The garden's major components will demonstrate sustainable landscape design and horticultural principles that promote environmental stewardship through the development of a landscape that demonstrates:
Resource Conservation – minimal outside inputs of water, topsoil, fertilizers, and toxic pest control methods. The materials selected for use in the garden will be obtained within a 350 mile distance of Farmingdale.
Recycling Principles – water retention techniques utilizing the collection and dispersal of rainwater; soil building techniques utilizing compost and compost tea, living mulches/cover crops.
Plant selection – plant selections that demonstrate the 'right plant for the right place:' matching plants suitable to the specific habitat, rather than modifying a site for the plants.
Product Development – The garden will feature ornamental plants that can produce food (bamboo, fruits, herbs) or products (bamboo for structural uses, other plant for dyes, fiber and biomass).
Outdoor Classroom facility – an intentionally designed outdoor area for lectures and classes utilizing appropriate "green" principles. Materials being considered include: recycled materials (wood, stone, concrete and metal); locally harvested products (native lumber, straw bale building construction); resource-conserving technologies (green roof, solar, rainwater cisterns, composting toilets).
"The word 'sustainability' may be relatively new, but its underlying ethic has deep roots on the North American continent. Native Americans have historically held to the 'seven generations' rule, meaning that all decisions should take into account the impact on seven generations into the future."
The Case for Sustainable Landscapes – The Sustainable Sites Initiative http://www.sustainablesites.org/
"We do not inherit the earth from our ancestors, we borrow it from our children."
-Native American Proverb, from the Great Law of the Iroquois Confederacy
www.indigenouspeople.net/iroqcon.htm

Why the Need for a Sustainable Garden?
Every land use decision we make will have a positive or negative effect on the land in our care. The development of a sustainable garden within Farmingdale State College's renowned 5-acre Teaching Gardens offers the Department of Urban Horticulture and Design an opportunity to foster greater awareness and understanding of a truly green movement among its students, who will serve as future industry leaders. This new outdoor classroom continues the department's long tradition of utilizing practical, hands-on experience to complement and enhance traditional academic programming.
Generations of talented students and dedicated faculty have developed and maintained the Teaching Gardens since the 1930's as a model for successful landscape design and horticultural practices. The gardens are separated into a series of theme areas, or "garden rooms," which feature a diversity of design styles and planting schemes in a relatively small area. The department is fortunate that undeveloped space remains available for the creation of The Sustainable Garden, though limited resources hinder this endeavor. Creation of such a garden ensures that students have access to progressive ideas and strategies that will influence Long Island's large horticulture and landscape design sector to ensure that industry practices respect the environment of this heavily populated area. It can also influence how the average citizen utilizes dwindling resources in a finite world and promote sound environmental stewardship within the region.
How does the Sustainable Garden Differ from Present Components within the Teaching Gardens?
The philosophy that guides The Sustainable Garden is conveyed in the following passage adapted from "The Sustainable Sites Initiative: Guidelines and Performance Benchmarks (2008 Draft)," an interdisciplinary initiative by the American Society of Landscape Architects, the Lady Bird Johnson Wildflower Center, the University of Texas at Austin, and the United States Botanic Garden:
"The Initiative envisions that sustainable land practices will enable natural and built systems to work together to protect and enhance the ability of landscapes to provide services such as climate regulation, clean air and water, and improved quality of life. For purposes of the Initiative, sustainability is defined as land practices 'that meet the needs of the present without compromising the ability of future generations to meet their own needs.'"
Long Island's well documented historical roots in the establishment of the 20th Century American suburban land pattern, its dense population base, and ever-growing loss of open space makes this region an appropriate and fertile testing ground for researching new landscape models promoting innovative sustainable techniques seeking solutions for the region's ills. New models are needed to address ever growing world-wide issues such as climate change and the 'urban island heat index', concerns about greenhouse gases, groundwater pollution and runoff, the loss of biodiversity and unstable fossil fuel costs. Our current suburban land pattern of living in single-family suburban homes, working in cities and getting to and fro via the private automobile has us in a real pickle: how can we transition away from our petroleum guzzling infrastructure and toward a more sustainable future? We're not going to blow up our current suburban model, right? But the end result is this: many landscapes require expensive inputs to maintain, are poorly built and not built for the long term. Further compounding the issue are the State of New York's Department of Environmental Conservation ever changing environmental regulations impacting the 'green industry'… in products, in practice, in services. Opportunities…or obstacles?
As a result, sustainable design, environmental issues and the related impacts of construction on the built environment are topics of mutual interest and increasingly being addressed. Many who employ sustainable thinking and practices are convinced that with a reliance on fossil fuels, uncertainty regarding climate change and economic irregularities, it will not only be necessary but profitable for landscape professionals to embrace sustainable practices.
Research and documentation about landscapes should not be just an abstract and theoretical subject: its subject should be largely real-world projects and their real-time effects. Accordingly, research needs serious involvement of landscape practitioners.
Implementation of the Sustainable Garden affords this department the opportunity to conduct research and contribute to the dialogue of effecting real change in the 21st Century. As such this garden will instigate a whole systems approach and promote working, productive, ornamental landscapes by developing a new aesthetic ideal. A pressing need in green building (including landscapes) is performance documentation. Without documented before-and-after data, no project in the built environment can be evaluated properly, and few well-supported conclusions about the causes of its success or short-comings can be drawn. Typically, neither baseline nor post-occupancy data are routinely gathered for either conventional or cutting-edge projects. Even if gathered, these data are seldom cataloged, compared or compiled. (Thompson/Sorvig, 2008, Sustainable Landscape Construction)
The location of the Sustainable Garden "Click here for map" is the Department's former nursery area: long underutilized, its size and layout reflect a bygone era when nursery production was an important aspect to our curriculum; its location to nearby existing display gardens, and proximity to existing infrastructure — water, electricity, etc — allows for potential reuse. The site featured unchecked invasive plantings and highly disturbed and compacted soils, suitable for testing sustainable landscape development strategies.
Goals of the Sustainable Garden
Every "green" project needs to be treated as a science project as well as performing a pragmatic job, and creating beauty. There needs to be a shared quantifiable method of documenting baseline conditions and actual performance rates of everything we construct. For example the Sustainable Garden could contribute research in these areas:
Soils – the majority of mainstream construction building practices damage existing healthy soils or increasingly, due to land scarcity, are forced to consider working within injured sites. The environmental and economic costs for construction projects in both cases are considerable, as is the practice of importing topsoil stripped from off-site sources. The Sustainable Garden seeks to evaluate and assess critical building issues such as soil erosion, compaction and improvement strategies prevalent when constructing buildings and landscapes by comparing pre-design/construction conditions versus post- construction techniques. It seeks to address such problems by testing a variety of site-specific innovative approaches promoting the Soil Food Web, including restoring soil microflora via compost teas, worm castings and compost.
Water — reducing water consumption and protecting water quality are key objectives in sustainable building and in the implementation of the Sustainable Garden. One critical issue of water conservation is that in many built areas, the demands on the supplying aquifer far exceed its ability to replenish itself. Even in the rain-rich Northeast it's important to consider that much of Long Island's water is drawn from a sole aquifer. To the maximum extent feasible, "green" building projects should increase their dependence on water that is collected, used, purified, and reused on-site.
There are a wide number of strategies for implementing water conservation. In buildings, waste-water may be minimized by utilizing water conserving features such as high efficiency, ultra-low flush toilets, water-saving sinks and low-flow shower heads. In the landscape, reducing the amount of turf grass and high-water intensive ornamental plantings, and landscaping instead with hardy trees, shrubs, and indigenous, drought-resistant plants will significantly reduce water consumption, as will utilizing low flow sprinkler heads and optimized irrigation schedules and controls.
In addition to water efficiency measures, the Sustainable Garden's design will include water re-use. Initially the Sustainable Garden will focus solely on rainwater harvesting as the appropriate technology used to collect, convey and store rain for later use. Rainwater is considered the cleanest form of harvested water and can be used for toilet flushing, hose bibs, industrial applications, domestic clothes washing, irrigation, landscape water features and more.
Wastes – Composting leaves, grass and garden waste products is good for the environment and good for making soil. According to research compiled by the Sustainable Sites Initiative, leaves and grass comprise as much as 18 percent of landfill volume nationwide, with another seven percent consisting of rock, soil and woody landscape waste. Increasingly, individual cities and town nationwide mandate that residents separate organic waste from solid waste. In 2011 the Sustainable Garden developed a composting system utilizing in-house and campus wide organic materials. We anticipate developing an educational outreach program training others how to compost.
Standards – While standards exist for sustainable structures, ie., "green buildings" (for example, the US Green Building Council and their Leadership in Energy and Environmental Design — LEED) via certification by third party evaluators of a structure or building for environmental soundness, until recently there were no standards to guide those who want to create sustainable landscapes. Ironically it is possible to build a truly green building but destroy the site it sits on in the process. In 2008 The Sustainable Sites Initiative – an interdisciplinary effort by the American Society of Landscape Architects, the Lady Bird Johnson Wildflower Center at the University of Texas at Austin, the United States Botanic Garden, and the US Green Building Institute – created voluntary national guidelines and performance benchmarks for sustainable land design, construction and maintenance practices. Over 150 pilot projects are participating in the initial program to evaluate and rate landscapes (http://www.sustainablesites.org ) The Sustainable Garden's design will follow these principles and hopes others to follow them too.
Target Audience of the Sustainable Garden
Sustainable practices introduced within our Teaching Gardens serve as a model for 'how-to' conceive, implement and maintain a 'green' landscape on sites with or without buildings. Therefore this garden will serve interested Department of Urban Horticulture & Design students.
Farmingdale State College has pledged a commitment to integrate sustainable principles on a campus-wide basis. In addition, through its Green Building Institute (GBI), it pledges to "encourage and aid in the design and construction of buildings on Long Island that significantly reduce or eliminate the negative impact of structures on the environment. Specifically, the GBI will: (1) make Long Island a center of research and development, job creation, and economic enterprise relating to green buildings; (2) assist Long Island business, municipalities and school systems to reap cost and productivity benefits of producing green buildings; (3) enhance the quality of life through building design; and (4) assist Long Island businesses, municipalities, and school systems in addressing environmental challenges through green building design. Areas of focus will include alternative energy, alternative construction, architectural design, storm water management, green roofs and green walls, HVAC/energy management, electrical engineering, and testing of "low-emitting" building materials with regard to air quality and industrial hygiene." The Sustainable Garden will assist in achieving these goals throughout Long Island and beyond.