Speaker presentation descriptions: Waste Not Want Not (find out more) – April 12, 2014
Title of Presentation:  The Comeback Kids:  Breathing New Life Into Hicks and Cutler Halls
Time of Presentation: 8:45am – 9:45am
Presenter:  Lucie Searle, Real Estate Developer, Providence, RI and Vice President of the Board of Trustees, Providence Preservation Society.
Description of Presentation: Hicks Hall, originally the "Horticulture" building and Cutler Hall, the "Agronomy" building, date back to 1914, the early founding years of today's Farmingdale State College.  These turn-of-the century classically styled buildings, now vacant and in disrepair, represent an unusual opportunity to celebrate Farmingdale's roots and to provide extremely attractive 21st century facilities by a thoughtful restoration and re-purposing of these two stately structures. Using a number of examples of completed projects, Ms. Searle will explain the process, effort and costs associated with re-using old buildings. She will also suggest some "next steps" that might be undertaken to jumpstart the rehabilitation of  Hicks and Cutler.
Title of presentation: Design for Water: From Watersheds to Bioswales
Time of presentation:  Saturday April 12: 10:15am- 11:15am
Presenter: Halina Steiner, Creative Director, dlandstudio: architecture and landscape architecture, Brooklyn, NY
Description of presentation: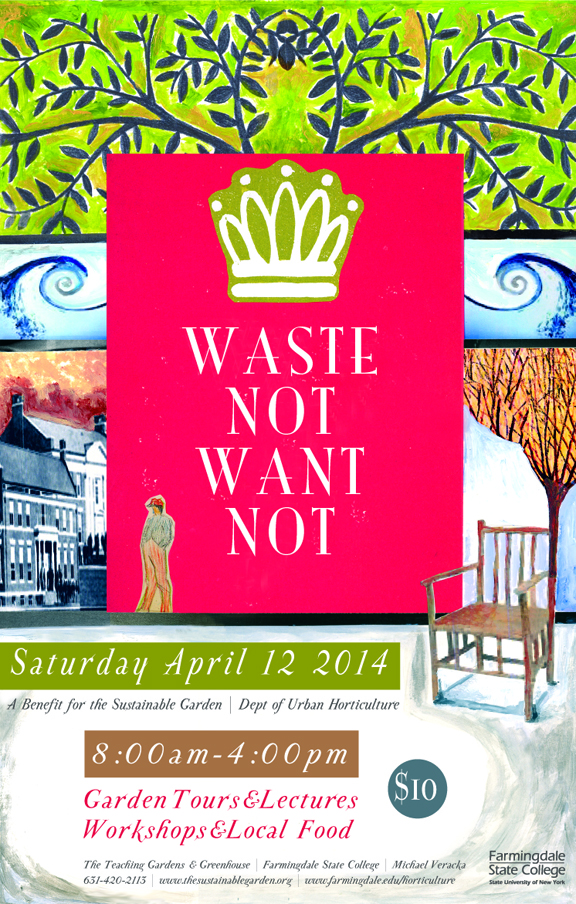 Water, once abundant and cheap, is poised to become the new oil as the entire world faces the reality of a decreasing supply of clean water. If we are to avert a devastating shortage, we must look at alternate water sources in the planning of new developments and management of existing densely populated regions such as the greater New York area. In her presentation Halina Steiner, MLA, will discuss the collaborative work her firm is involved in to improve water quality. Specific examples of stormwater management across scales, from watershed to localized capture will be detailed and projects shown will include Gowanus Canal Sponge Park, Alley Pond Environmental Center, HOLD System: Bronx River, and HOLD System: Flushing Creek.
Title of presentation: From Forest to Table: Repurposing Long Island's Woods
Time of presentation:  Saturday April 12: 1:30pm -2:30pm
Presenter: Richard Arnedos, Landscape Architect, Horticulturist II,  Nassau County Department of Public Works, Adjunct Professor, Farmingdale State College Department of Urban Horticulture and Design.
Description of presentation:
Super storm Hurricane Sandy wrecked havoc on Long Island's entire landscape. Many forest communities were severely damaged and countless private landowners, town, county and state government agencies still face monumental tasks cleaning up downed trees and debris and assessing the overall health of the forest. With every challenge comes an opportunity to think anew. In this presentation landscape architect Richard Arnedos will discuss the work his agency is doing to manage storm damaged county parklands and offer insights as to how many of Long Island's diverse species of trees lend themselves to making products beyond firewood and wood chips. Rich will show examples of how to harvest and mill wood and design and create useful structures and furniture.
Title of presentation: Grow More with Less: Sustainable Garden Methods
Time of presentation:  Saturday April 12: 2:45pm -3:45pm
Presenter: Vincent Simeone
Description of presentation: This talk will demystify the what, how, and why of sustainable gardening. Topics include why we should plant for the long-term, how to make the best plant selections possible, how to manage invasive species, how to make the most of your lawn (regardless of its size), the importance of integrated pest management in fighting insects and pests, how to conserve water with proper irrigation, installing rain barrels and cisterns, and more. Grow More with Less is your complete step-by-step personal roadmap for sustainable gardening.