Michael's Bio: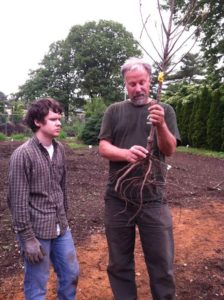 Michael Veracka is an Associate Professor within the Department of Urban Horticulture & Design (www.farmingdale.edu/business/urban-horticulture ) at Farmingdale State College. His teaching interests and design practice focus on sustainable design, edible landscaping and the adaptive reuse of urban spaces. Michael is the creator of The Sustainable Garden, a new one-half acre demonstration garden within the department's Teaching Gardens focusing on contemporary strategies and practices relating to responsible resource use, conservation and innovation, product development and food production. In 2013 SUNY designated this garden as one of "Six Big Ideas, With Unlimited Potential," highlighting the garden as an example of the Power of SUNY.
At the root of his work is a reverence for nature and a respect for the natural environment. Trained as a landscape architect – earning a master's degree from the Rhode Island School of Design – Michael's landscape philosophy brings together his educational training at Providence College, the New Alchemy Institute (East Falmouth, MA) the Research Center for Japanese Garden Art and Historical Heritage (Kyoto, Japan) and practical experience as an organic grower and market gardener, environmentalist, stone artisan, urban garden designer, certified arborist and horticulturist. He has also worked as a landscape designer and planner for private landscape architecture firms and city and state government agencies.
Michael is a frequent lecturer and writer on a wide variety of design and horticultural topics. Michael has won numerous design awards and his work has been featured in Garden Design magazine; Organic Gardening magazine; People, Places and Plants magazine; Rhode Island Monthly magazine; the Boston Globe magazine; the Boston Herald, and numerous other publications.
---
Jennifer's Bio: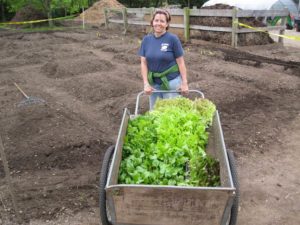 Jennifer Cappello-Ruggiero works as Horticulture and 4H Educator at the Nassau County Cornell Cooperative Extension office, East Meadow Farm, Long Island (http://ccenassau.org/ ). Jennifer coordinates all aspects of education for adults and children.  She is the Master Gardener Program Coordinator and oversees all aspects of the demonstration gardens at East Meadow Farm including the seasonal farm stand. A 2015 graduate of the Horticultural Technology Management Bachelor program at Farmingdale State College, her special academic areas of interests include landscape design, horticultural therapy and environmental education.
As a Horticulture student with a concentration in Landscape Development, Jennifer received numerous scholastic awards and participated in noteworthy service learning activities. In 2012 she spearheaded the student-led design/construction of two prototype bioswale rain gardens along the Farmingdale campus ring road. While head intern with the Sustainable Garden, Ms. Cappello-Ruggiero managed the Friends of the Sustainable Garden membership program, coordinated garden education programming for adults and preschoolers, and served as event coordinator for five Sustainable Garden educational conferences. An avid gardener and lover of flowers, Jennifer coordinated garden sales of produce, and conducted field trials of flower varieties suitable for cut flower production, and in 2013 established "Bouquet Tuesday," a weekly in-season flower market within the Sustainable Garden.