On Saturday, April 12, Farmingdale State College's Department of Urban Horticulture and Design will host "Waste Not Want Not."  This educational day runs from 8:30 a.m. to 4:00 p.m. at the college's Teaching Gardens and Greenhouse. The public is invited to support The Sustainable Garden of the Department of Urban Horticulture and Design through the $10 admission fee.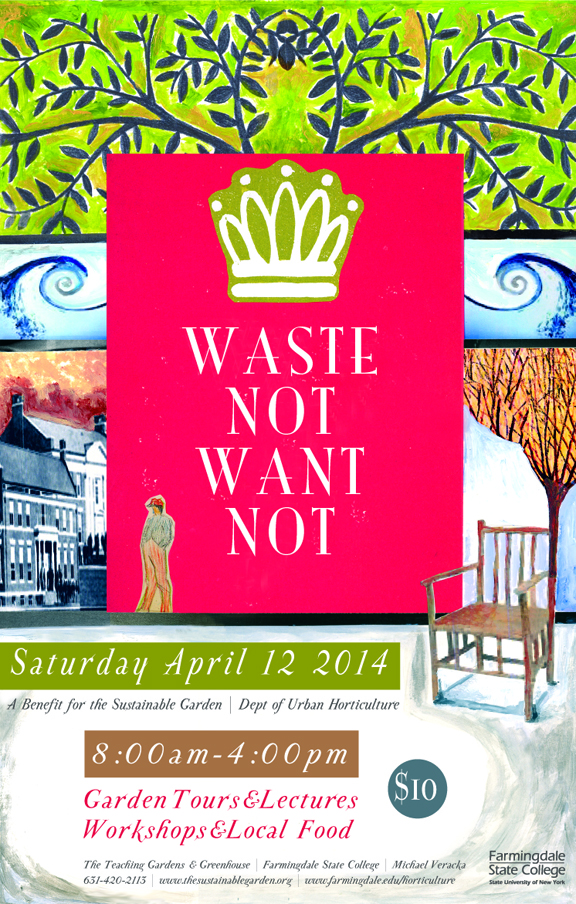 This is the first major event hosted by the department since changing its name to Urban Horticulture and Design. Urban Horticulture speaks to the program's location within the New York City metro area and its unique mandate to address horticulture in the context of challenges and opportunities indigenous to this environment.
The Field Day will also feature a CSA Fair (10 a.m. – 2 p.m.) garden tours, plants for sale, a variety of vendors, and local food. CSA stands for Community Supported Agriculture. There is no admission fee for this section of the Field Day.
Renowned speakers include the following:
• Vincent Simeone, Director of Planting Fields Arboretum, Oyster Bay, NY
• Lucie Searle, Vice President of the Board of Trustees of the Providence Preservation Society, Providence, RI, and real estate developer coordinator, AS220, Providence, RI
• Richard Arnedos, Landscape Architect, Nassau County Park Department, and Adjunct Professor, Farmingdale State College
• Halina Steiner, Creative Director, dlandstudio: architecture and landscape architecture, Brooklyn, NY
• Michael Veracka, Assistant Professor and Chair, Department of Urban Horticulture and Design, Farmingdale State College
"Waste Not Want Not" is held in conjunction with Farmingdale State College's Open House which offers potential students an opportunity to tour the campus, and talk with students and faculty. And for students interested in horticulture, one of the college's earliest and most distinguished programs, the Field Day will answer any and all questions.
 Schedule *| Complete Listing of Lectures (click here)
8:30 a.m.: Opening Remarks
8:45 a.m.: The Comeback Kids: Breathing New Life Into Hicks and Cutler Halls- Lucie Searle
9:45 a.m.: Take a break by walking through the vendors and see all there is to offer. Visit the CSA Fair and sign up for fresh produce throughout the season.
10:15 a.m.: Design for Water: From Watersheds to Bioswales– Halina Steiner
11:15 a.m.: Stretch your legs
11:30 a.m.: CSA Panel Discussion
Noon: Lunch with concert by student band
12:30-1pm: Panel discussion with Farmingdale Horticulture students regarding
Landscape Sustainability Topics and student projects
1:30 p.m.: From Forest to Table: Repurposing Long Island's Woods – Richard Arnedos
2:45 p.m.: Grow More with Less: Sustainable Garden Methods – Vincent Simeone
3:45 p.m.: Plant Auction
*subject to modification
The history of the horticulture program at Farmingdale State dates to the founding of the institution as an agriculture school over 100 years ago. Long Island's agricultural roots have been masked by suburban sprawl and our local area is now best viewed as an extension of New York City complete with the challenges and opportunities endemic to urban landscapes. The department no longer views horticulture as a movement based solely on aesthetic improvement. The true challenge is to marry the discipline with contemporary trials faced by urban areas such as limited resources, environmental degradation, paucity of locally grown food and the difficulty of beautifying a complex environment while improving the lives of its residents.
All "Waste Not Want Not" activities will take place at The Teaching Gardens and Greenhouse Complex, conveniently located adjacent to the Smith Street/Rt. 110 entrance on the Farmingdale State College campus.
For more information, contact Michael Veracka, MLA, Department Chair and Assistant Professor, Department of Urban Horticulture and Design, Farmingdale State College,
(631) 420-2113.
For more information about The Sustainable Garden, go to www.thesustainablegarden.org.
For further information about the college's Department of Urban Horticulture and Design, go to www.farmingdale.edu/horticulture.