Visual Communications Announces Redesigned Degree Programs
March 9, 2021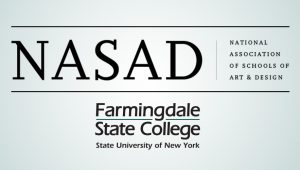 The Visual Communications Department is pleased to announce the newly redesigned and nationally accredited Bachelor of Science degree program in Visual Communications: Art & Graphic Design and the Bachelor of Science degree program in Interaction Design. These degrees represent the most recent evolutions of these innovative design programs and have earned FSC accreditation by the prestigious National Association of Schools of Art & Design (NASAD).
NASAD accreditation affirms the programmatic excellence as well as the artistic and academic worth of design programs. This national status signifies that an institution seeks optimum learning conditions for art and design students and continuously develops their art and design programs' strength and quality in alignment with most current teaching standards and industry trends. According to NASAD, "The primary purpose of schools of art and design is to help individual students turn talent, inspiration, creativity, and dedication into the significant potential for service" to the broader art and design community and culture. FSC's Visual Communications department and programs have embraced this ethos.
Both Bachelor of Science programs feature the opportunity for real-world learning experiences, including internships, an in-house design agency, and classes such as Design for Social Change. Both programs culminate with Senior Project, a year-long capstone course that profoundly contributes to students' lives and education. There are also industry-related field trips, guest speakers, and unique study abroad programs with trips that range from a few weeks to an entire semester, all geared toward engaging students with design exploration beyond the walls of FSC.  The new BS degrees build upon the original programs' successes, including graduates who have gone on to rewarding design careers with some of the most recognizable companies in the country, including Amazon, Nike, IBM, Wunderman Thompson, Canon, and Lowes, and Long Island-based companies such as Henry Schein and Millenium Communications.
Prospective Students:
Click on the links below for details on each of the programs. For additional information, please contact the department secretary, Joyce LoBue, at lobuej@farmingdale.edu, or 934-420-2181.
Current Students:
For specifics about the new BS degree, contact an academic advisor, or contact the department secretary, Joyce LoBue, at lobuej@farmingdale.edu, or 934-420-2181.