Murray Pasternack's Gift is Unwrapped
March 9, 2021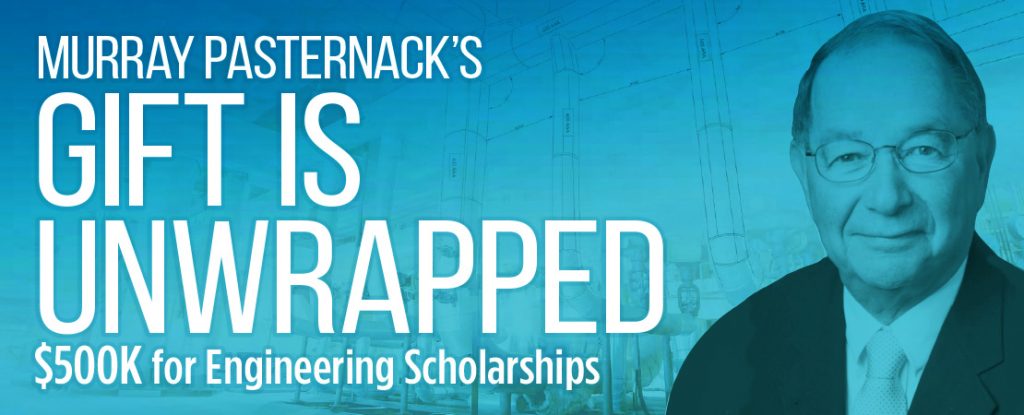 $500k for Engineering Scholarships
Like many of our alumni, Murray Pasternack credits FSC for helping him chart a course to success. A student of modest means at what was then known as the Agricultural and Technical Institute at Farmingdale, Mr. Pasternack ('60) worked while studying in the Electrical Technology (now called Electrical Engineering) program. But it's more than the titles that have changed.
Mr. Pasternack, who is originally from Franklin Square, has been so successful in the electronics industry that he recently donated $500,000 to establish the Murray Pasternack Endowed Scholarship in Engineering as part of the College's anticipated Honors Program. The gift will provide 20 annual scholarships to Engineering Technology honors students affording them the ability to devote more time to applied learning opportunities that define the Farmingdale experience.
"I strongly believe that the Agricultural and Technical Institute at Farmingdale—now known as FSC—provided me with the depth of knowledge I needed to succeed in my first chosen field, the electronics industry," Pasternack says. "In addition, it sparked my desire to continue to broaden my area of interest. This led me into the fields of law and banking. Now that I am finally transitioning to retirement, I am looking to say thank you to those that helped me in my long journey."
As Founder and CEO of Pasternack Enterprises in Irvine, California from 1972 to 1992, Pasternack fundamentally changed the way radio frequency (or RF) components were sold throughout the electronics industry. RF components are the active & passive parts that are used to assemble wireless receivers & transmitters. These components are used in many diverse applications including radio, TV, radar, GPS, cell towers, and medical electronics. Pasternack's interest in the workings of receivers & transmitters propelled him to spectacular success in the RF industry and, with this gift, to the status of one of Farmingdale's largest alumni benefactors.
His fascination with electronics was encouraged and nurtured at FSC. And his enormous success is a source of pride for the College.
Pasternack's donation will enhance the experiences of students, providing research opportunities, intercollegiate academic competition, attendance at professional conferences, and travel expenses to participate in competitive and prestigious internships.   As the fund grows, so too will the financial award and impact to the students.  The scholarship fund will identify the most promising students and provide them with academic and pre-professional opportunities to achieve their professional aspirations. This transformational experience will assure that higher performing students have the financial resources required to and fully realize their potential.
"The College seeks ways to recognize academic excellence among students who demonstrate financial need," President Nader says. "Mr. Pasternack's gift will help the College establish a long-planned Honors Program that will help set FSC apart from our peer institutions in the region."
"The Farmingdale Foundation is dedicated to changing lives and building futures with the College and Mr. Pasternack's gift will do just that," said Matthew Colson, Vice President for Development & Alumni Engagement.  "Our staff works tirelessly to mobilize the College's alumni, friends, and business community to raise critical funds needed to assure student success and academic excellence.  We're grateful for Murray's leadership and generosity and look forward to more of his fellow alumni coming forward to join him in this special way."
The gift is second in size only to the $1 million donation made by Theresa Patnode Santmann '69, another Farmingdale alumnus, to support the School of Health Sciences in 2011.