Irene Luetje Poetry Award and Essay Contest – $400 Prize
February 23, 2021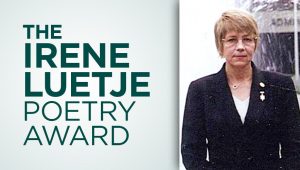 The Irene Luetje Poetry Award was started to honor the memory of a member of the Farmingdale State College family who died in 2013. Irene Luetje proudly worked as an administrative assistant for the office of Diversity, Equity, and Inclusion, but she was also an independent scholar and poet whose concern for, and kindness towards students was legendary. The diversity of our campus members delighted her and she worked hard to support related various campus groups, such as the Multicultural Committee. Her talent, hard work, and kindnesses exemplified the Farmingdale State College spirit.
We're looking for talented writers who would like to receive the honors and applause of their peers and professors and walk away with a $400 gift card for Barnes and Noble. Budding poets or essayists, please submit your entry by March 12th. There will be up to three winners. Only one submission per person please.
While almost any theme is acceptable, the submissions must focus on an aspect of diversity or multiculturalism. Past submissions have centered on the challenges and rewards of living within a multicultural community, while others have centered on the recognition of diversity beyond the realms of ethnicity or race. Still others have written about the immigrant experience or crossing gender lines. Subjects may include issues of class/status, race, ethnicity, disability, etc. Writings must be submitted in Word and sent as an email attachment to cruza@farmingdale.edu.