Celebrating Black History Month
Tuesday, February 16, 2021 - Friday, February 26, 2021 11:00am Google Meet
Past Event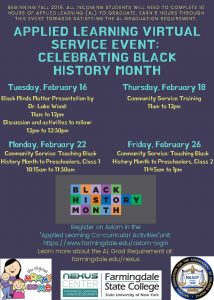 The Nexus Center is hosting our Applied Learning service event this February. It will be run on February 16, 18, 22, 26 – with times varying.
For our Celebrating Black History Month service event, we are partnering with the NAACP chapter at FSC to host a workshop entitled "Black Minds Matter" presented by Dr. Luke Wood. For the community service component, students will be facilitating classroom activities based on Black History Month to three year old children at the Original Mommy and Me Inc.
This whole event will be virtual via Google Meet, and students can earn 5 applied learning credit hours.
The event is posted on Axiom: Applied Learning Co-Curricular Activities & Nexus Center Applied Learning Service Event: Celebrating Black History Month (VIRTUAL- AL ENHANCED)- ID 2933.
For more information, please contact Ashley Perrone by email perronam@farmingdale.edu or phone (934) 420-5618.
Published on February 23, 2021