FSC Alum Gives Address at SUNY EOP Event
January 26, 2021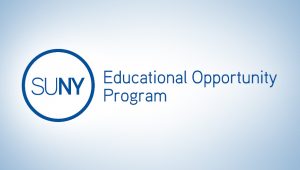 Aesron Jeremiah, a 2020 winter graduate of Farmingdale State, was the student speaker at the event celebrating 45 students in the SUNY Educational Opportunity Program (EOP) last month.  

Jeremiah earned a degree in Science, Technology and Society, with a minor in Aviation Administration. He is the recipient of a 2016 Children's Defense Fund-New York Beat the Odds Scholarship, which honors outstanding high school students who have excelled academically and served as leaders in their communities, despite facing difficult circumstances in their lives. After graduation, the Brooklyn native plans to join the military and pursue his dream of becoming an aeronautical engineer.
Since its inception in 1967, the EOP has provided access, academic support, and supplemental financial assistance to students from disadvantaged backgrounds, many of them the first in their families to attend college. In its 53-year history, the EOP has served more than 75,000 students and evolved into one of the country's most successful college access programs.
In the current academic year, SUNY had more than 10,000 EOP students on 49 SUNY campuses. EOP students often outperform their peers, with 74-percent of them graduating with a baccalaureate degree within six years.