Winter Commencement to be Held Virtually
November 17, 2020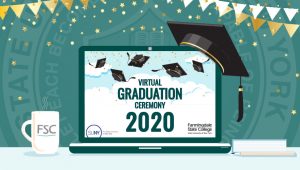 The College is committed to ensuring a safe and healthy environment and to adhering to SUNY and State guidelines for conducting events during the public healthcare crisis. For these reasons, the Winter 2021 Commencement will be conducted virtually. Four virtual ceremonies will be held by School, each at 7:00 pm. The dates are listed below.
Arts and Science on Monday, January 11th
Business on Tuesday, January 12th
Engineering Technology on Wednesday, January 13th
Health Sciences on Thursday, January 14th
For May 2021 graduates, the College is discussing plans for your Commencement and hopes to make a decision early in the Spring semester.
All graduates should continue to check https://www.farmingdale.edu/commencement/ for more details and updates.