FSC Valedictorian Pens Suspense Novel 
October 5, 2020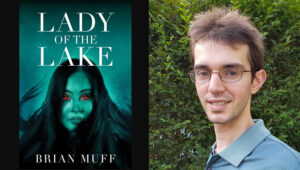 Brian Muff
It's a good thing summer is over; after reading the spooky debut novel from Farmingdale State alum Brian Muff '17, we doubt you'd be racing to get back in the water.
Muff, who graduated from Farmingdale as valedictorian of the Class of 2017, is the author of the newly published young adult suspense novel, Lady of the Lake.
"I always dreamed that I would someday publish a book," says Muff. "Seeing all of my hard work come together into a finished product is such an amazing feeling."
Published by The Word Verve Inc, the novel's title will be familiar to local paranormal enthusiasts. Lady of the Lake draws inspiration from the legend of the Native American princess that is said to haunt Long Island's Lake Ronkonkoma and lure young men to a watery grave.
A haunting romance that intertwines star-crossed lovers past and present, Lady of the Lake proves that love can conquer even the scariest of challenges.
The novel centers on a teenage girl named Miley, whose boyfriend, Braden, is dragged underwater by the Lady of the Lake. With the help of a classmate and his eccentric "mad scientist" father, Miley learns about the legend of Lake Ronkonkoma and how the princess has been driven to drown young men in the lake. The trio devise a plan to reunite the princess with the English settler she was involved with in a forbidden love affair in the 1600s. They must break the curse of Lake Ronkonkoma: Braden's life depends on their success.
Incredibly imaginative and chockful of thrilling twists and turns, Lady of the Lake will pull you under and make sure you never come up for air.
Lady of the Lake can be purchased on the publisher's website. It is also available from Amazon and Barnes & Noble.