Alumni Association Board Member Honored for Corporate Citizenship
September 21, 2020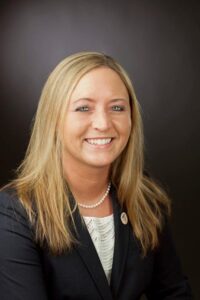 Julie Allegretti
Julie Allegretti, Alumni Association Board member and holder of three FSC degrees, has received the Leadership Excellence – For Profit Award from Long Island Business News (LIBN). She was one of five award winners.
"I am very honored to have been selected," says Allegretti. "Charitable work has had a great impact on my life. Participating in community efforts is something that was instilled in me at an early age, and something I will continue to do. It is fulfilling to see the impact my charitable efforts have for the organizations and communities. I have had the opportunity to learn new things and meet many new people. My life has been enriched by my volunteer experiences.
"I find giving back very rewarding, especially giving back to Farmingdale as a board member of the Alumni Association. I thank Farmingdale for giving me all of the great experiences I had during my time there. I am proud of the great foundation that Farmingdale gives its students.
"Please consider making a donation to the Farmingdale State Alumni Association."
Allegretti's career at FSC includes Associate's degrees in both Liberal Arts and Sciences and Criminal Justice, and a BS in Security Systems. She was named to the Alpha Phi Sigma National Criminal Justice Honor Society, and earned the Skyline Conference Scholar-Athlete Award.
Allegretti is Community Relations Director at Russo Law Group. She is known for her tireless work ethic, strong organizational and people skills, mastery of social media, dedication to client satisfaction, and commitment to giving back to the community.
"The Farmingdale Alumni Association is so proud of Julie's many accomplishments, and all that she has contributed to her community and alma mater over the years," says Michelle Johnson, Director of Alumni Engagement and Stewardship. "She is highly deserving of LIBN's Leadership Excellence Award, and we look forward to celebrating her continued success."
LIBN says its Corporate Citizenship Awards "recognize companies and individuals who believe that by being a good corporate citizen we contribute to the economic and social well-being of our employees, businesses, and the community. Honorees consistently prove that true community stewardship evolves through building strong partnerships with nonprofit organizations and others that strive to meet the critical needs of our community."
This is not the first time LIBN has honored Allegretti. In 2016 she received both the Millennial Award and Excellence in Communications Award.