The People of FSC Battle COVID-19
April 23, 2020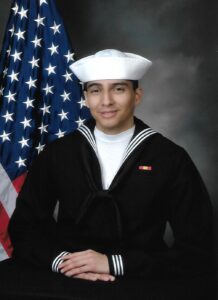 Jorge Osorio
The move to distance learning and remote assignments hasn't stopped the FSC community from stepping up to help health-care professionals, Long Islanders wanting to be tested for the coronavirus, local businesses, senior citizens, and students in financial need.
Here are some of the things the people of FSC have done.
Human Resources staffer/alum Jorge Osorio, a member of the U.S. Naval Reserve, has been helping the New York State Naval Militia test members of the LI community for COVID-19. Osorio, a Hospital Corpsman, was among many active and retired U.S. service members to answer the call from Governor Cuomo. Osorio was called up March 13, and three days later was in uniform, administering tests at Jones Beach. Says Osorio: "It is an honor for me to serve, and I will continue to work as hard as I can for the people of New York."
The Nursing and Medical Laboratory Science departments have contributed Personal Protective Equipment (PPE) to Northwell Hospitals in Plainview and Syosset. The contributions included 24 boxes of alcohol wipes, 400 face masks, 275 face shields, 261 boxes of gloves, 2 cases of hand sanitizer, 720 isolation gowns, 50 N95 face masks, and 47 safety goggles.
The Biology Department has been equally supportive of those on the front lines, having donated more than 400 lab coats, face shields, and goggles. The items were delivered by STS student, Rohan Gulati, to the ED/ICU departments in the following hospitals: Coney Island Hospital, Mount Sinai West and Mount Sinai Morningside in NYC, and North Shore University Hospital. Rebecca Bond, who is an essential worker in the Biology Department, collected the items and arranged for delivery to Rohan.
More PPE items were donated by Athletics to University Police.
FSC worked with the legislative offices of Senator Chuck Schumer, Congressman Tom Suozzi, Congressman Peter King, and Congresswoman Kathleen Rice to advocate for emergency funding for students economically affected by COVID-19. Funding passed by Congress through the CARES Act is now providing this assistance.
FSC staff gathered laptops for students who needed them to continue their studies at home, and Barnes & Noble granted free access to digital textbooks. "When the crisis hit, our faculty and staff went to extraordinary lengths to eliminate barriers to student success," said President Nader. "These include lending computers to students to allow remote work, expanding and extending the hours of our technology support, housing students with special needs, delivering virtual labs, easing financial burdens, and allowing remote registration. And we did it all within two to three weeks."
The SBDC (Small Business Development Center) has helped more than 200 small businesses arrange access to federal funding for businesses facing economic hardship.
Physical Plant staffers have helped with decontamination efforts at Purchase College.
Dr. Anthony Teets, an adjunct assistant professor in the English/Humanities and Professional Communications departments, owns Scott's Vernon Valley Deli in East Northport. He and his co-workers have become angels of mercy, delivering food to the elderly, and the nursing staffs at Huntington Hospital and Northport VA Medical Center. Dr. Teets says: "At first we were frightened about going into the ER, but we recognized an opportunity to care for nurses and health-care workers. For us, being in service to the community is far greater than being served."
Medical Laboratory Science alumni, faculty, and staff have been on the front lines – literally. Answering Governor Cuomo's all-hands-on-deck call for health-care workers, they have been at local hospitals and regional laboratories, performing critical laboratory and diagnostic tests.
The majority of student nurses in the Nursing Department completion program are RNs in area hospitals; there are traditional students working as nursing assistants and transporters; and adjunct professors are in the field, too. According to department chair Dr. Lori Goodstone, nearly 30 members of these groups contracted the virus while on the job. They knew that was a possibility every time they entered their workplaces – but just kept showing up. Thankfully, all have recovered. Bravo for your commitment to our communities!
Economics Department Chair, Dr. Xu Zhang, has been working with the Xiamen University American Alumni Association/New York Chapter, to raise funds for protective gear. The effort has been an overwhelming success, with more than 2,000 pieces donated to more than a dozen New York/New Jersey hospitals.
The Farmingdale College Foundation established an emergency fund for students facing financial distress or a need for technology. Within days, the fund generated over $14,000, which was distributed among students in need.
More is happening every day, and the FSC community is doing all it can to help save lives and protect our health-care heroes. Check the Campus Times for updates.