Brand-New, Completely Redesigned FSC Website Coming in January
December 16, 2019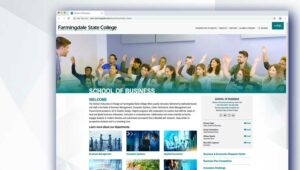 Get ready for FSC's new, ground-breaking website, debuting Tuesday, 1/21! Here are some highlights:
New and improved interface
Dynamic search function which will suggest search answers to your query
Easy-to-navigate directory with links to faculty and staff pages
New user-friendly calendar incorporating athletics, student activities, and campus events
New interactive campus map that includes Wayfinding
Then there's myFSC, a user-focused dashboard which will deliver content based on whether you are student, faculty, or staff.
Sign in once a day and easily access your email account and other platforms
Use the curated set of links to quickly access your most-used areas of the website
Learn what's happening at FSC with the campus-wide calendar
The new site has been a year in the making, with programming, design, navigation, and photography done by members of the Office for Institutional Advancement. More than 80 meetings took place to discuss the needs of the campus departments. The IT department provided support, with input from faculty, staff, and students.
Remember, Tuesday, 1/21, is the debut of a brand-new website experience, just for you.