STS Student Shines in NY Times Article
March 11, 2019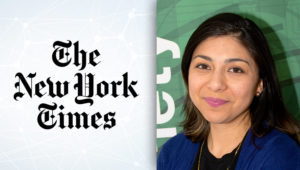 Science, Technology and Society (STS) major Candice Retas '19 studied music and drawing while she attended Nassau Community College a few years ago. Then something she never expected to happen, happened.
She took a biology course, loved it, and soon developed an interest in medicine and health care. She was also inspired by her mother, who studied at medical assistant school. So it's not surprising that now, within her STS major, is a concentration in biology, with psychology not far behind. Her ultimate goal is to become a nurse.
For now, Retas is studying and working her way toward that goal. She works as a medical office assistant in Northwell Health's Division of Infectious Diseases, in Manhasset. Then she literally races to FSC to take her classes. She is currently taking all the required biology and psychology classes in order for her to move into a nursing program.
Once upon a time though, Retas never even envisioned herself as a college student, much less a nurse. She struggled in high school, she said, but a guidance counselor convinced her to apply to community colleges. She was accepted at Nassau Community, and a couple of grants made it possible for her to attend at no cost. She said, simply, "Life is never what you expect it to be."
That's especially true about her pathway to FSC. It was at the recommendation of coworkers at Northwell Health that she enrolled at Farmingdale, and now she is thrilled she did. She loves the late hours the library is open, that she can eat at the Campus Center on a tight schedule, and that there are night classes. But what she loves most are her professors.
"My very first class, I was a nervous wreck. It was BIO 170t with Professor Anthony Perso.  He gave the most motivating and inspirational speech at the beginning of class, and I am telling you that just changed my whole attitude and outlook. It gave me so much confidence.
"From there all of my professors were also motivating, although the classes got more difficult.  To have professors that truly care, like Professor Richard Marsillo, is what I love the most about Farmingdale."
She has also been motivated by her classmates – many of whom are non-traditional students.
"I have met many young and older hard-working individuals in all of my classes, that are in similar situations like me.  They have all been inspiring to me. Seeing their determination reminds me that I am not the only one like them, and I won't be the last.  My intelligent and diligent classmates have helped me a lot in different ways throughout my time here at FSC, and I am very thankful for them!"
It was in a classroom that she became friends with an employee at the The New York Times. Soon she found herself the subject of a story about stackable degrees – the idea that one doesn't have to zip through one school in four years in order to gain the knowledge and skills necessary to become employable.
"It was an honor being featured in The New York Times. I never in my life would have thought I'd be in the newspaper."