FSC Students Design Sensory Herb Garden at Clark Botanic Garden
January 14, 2019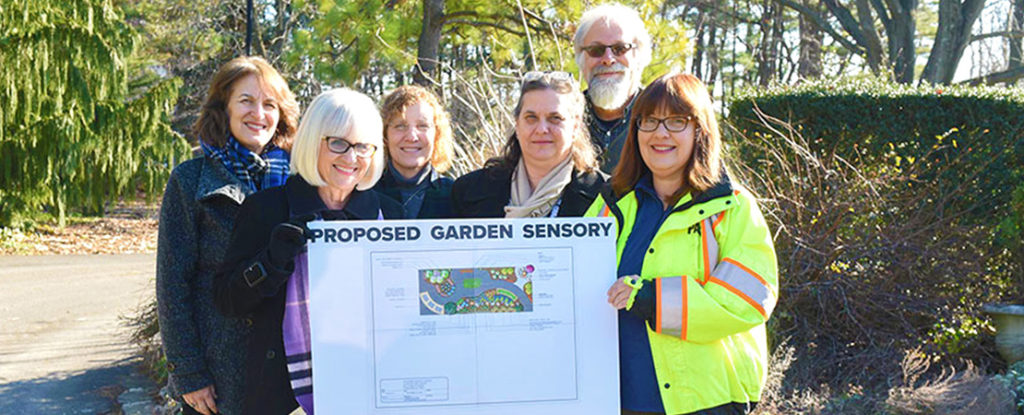 (L-R) Commissioner of Parks and Recreation Jill Weber, Town Supervisor Judi Bosworth, FSC students Michelle Callahan and Dona Damaltis, Professor Michael Veracka, and Town Horticulturist Bonnie Klein
"Please tour – even eat – the plants" may not be the advice you'd expect at ta public garden, but in a sensory herb garden visitors are encouraged to explore the prickly and tickly feel of plants, smell the fragrances and even eat some of what is growing there.
It's the Town of North Hempstead's Clark Botanic Garden, in Albertson, that will live by such a freewheeling policy, and it is FSC students Michelle Callahan and Dona Damaltis, with guidance and encouragement by Associate Professor Michael Veracka – all from the Department of Urban Horticulture and Design – who will make the sensory garden a reality.
"We were very fortunate to have the opportunity to use the skills and education we learned at FSC in the sensory garden project," Michelle Callahan said. "The entire design process in a real-world setting was a great experience, and we look forward to the installation of the project this season."
"Michelle and Dona gladly stepped forward to volunteer for the project," said Professor Veracka. "Both students told me they were intrigued with  an opportunity to work on a real project and create a design that would be realized, thus in essence disseminating their own research findings into a built landscape that the Long Island community could experience," said Veracka.
"It's been my goal to mentor teaching projects that demonstrate how everyday students, working together, can help solve our global environmental problems while simultaneously making the Farmingdale campus and our local communities a better place."
Callahan and Damaltis designed a 25 ft. by 10 ft. sensory herb garden that will include plants, shrubs, trees, and other features to stimulate the senses. Among the special "zones" in the garden design are fragrance, tickly touch, edible, movement, sound, color, and prickly. The design also includes a water fountain, pergola, stone walls and walkway, and more than two dozen plant varieties. The garden is scheduled for construction later this year.
"The new sensory garden will be a delightful addition to our beautiful Clark Botanic Garden," said Town Supervisor Judi Bosworth. "As it engages all the senses it will also further the educational mission of the garden."
Founded in 1969, Clark Botanic Garden is a 12-acre living museum and educational facility dedicated to understanding and appreciating plant life through horticulture, education, and research. This year the garden celebrates its 50th anniversary.