Toys for Tots 2.0
November 12, 2018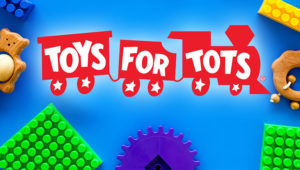 Campus Times announced last week a Toys for Tots drive sponsored by FSC's Student Veterans of America and American Legion Post 2016. But FSC isn't stopping there.
Now the payroll department has announced another Toys for Tots event, which is already underway and ends 12/10. Drop off unwrapped toys (no stuffed animals, war toys, or movies), to Chantal Etrasco at Horton Hall Room 252; Cynthia Katz at Laffin Hall lobby; and Barbara Kaplan or Diane Ellis at Human Resources, Whitman Hall.
Toys will be collected by members of the U.S. Marines Corps Reserve on Monday, 12/10. Please be generous!