Amazon Design Challenge Stirs Students' Creative Juices
November 12, 2018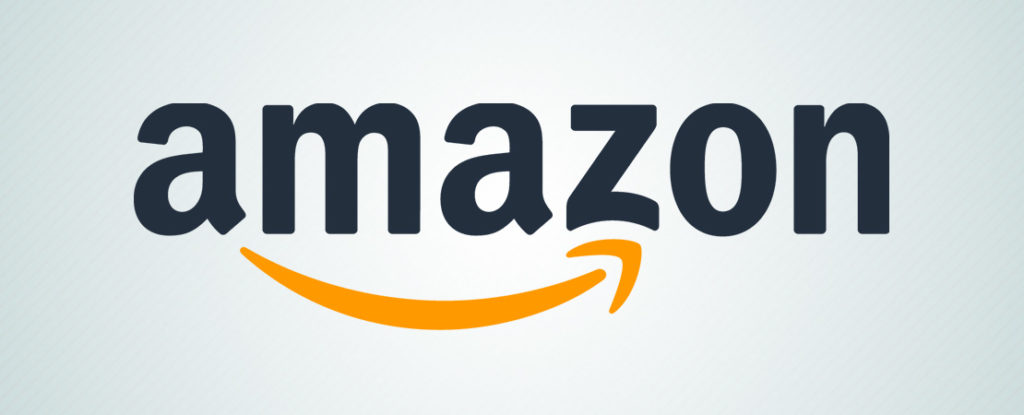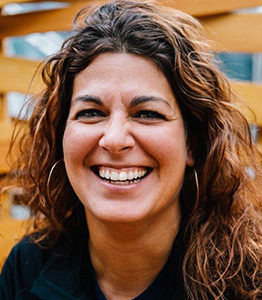 Cecilia Ambros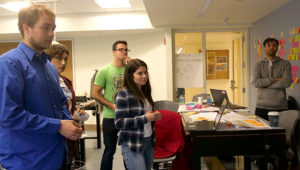 FSC students contemplate their project
You may think Amazon is only about shopping. Think again.
It's also about something called the Amazon Design Challenge, a brain 'n' boundary-stretching competition that brought a contingent of nine Amazon Design Leaders to Farmingdale State College to work with 20 students from eight disciplines in the Schools of Liberal Arts & Sciences, Business, and Engineering Technology, in a competition in which $10,000 in cash prizes seemed to take a back seat to the overall experience.
William Fodera '20, an electrical engineering technology major and member of the winning team, said simply: "The experience was like no other."
To appreciate why the three-day event was such an important venture, you have to understand the goal of the competition. In Amazon's own words: "Innovate or invent new ways of engaging and, perhaps, delighting people within their communities. Break the barriers of us-and-them to engage socially, culturally, and economically. Create an idea for an experience that is functional, productive, beautiful, largely self-sustaining, and with a role for every individual – creating the foundations of a thriving community."
The specific assignment – the first time it has been presented to undergrads – was similarly inspiring: "Conceptualize a new community experience. By understanding our brand, our technology offerings, and the breadth and potential of our audience, students should explore where they feel the next valuable thriving community experience is headed, and how Amazon plays a role in that experience."
How did such a landmark event wind up at FSC, especially since it has been staged at only a handful of private graduate universities – none in New York State or in the SUNY system? It was the brainchild of Cecilia Ambros '04, FSC alumna and Head of Creative Studios, US for Amazon Advertising, who worked with a team from Amazon to make the event happen.
"We are so fortunate to have a graduate like Cecilia Ambros," said Associate Provost Allison Puff, who taught Ambros while she was a student. "Not only does she have an incredible job at Amazon, but she is also very generous to FSC with her time and her talent. This is the second time she has been on campus to show how the design thinking process can be used to solve complex problems."
Those "problems" were met head-on by students from the Departments of Visual Communications (6); Science, Technology & Society (4); Mechanical Engineering Technology (2); Business Management (1); Electrical Engineering Technology (3); Applied Psychology (3); and Urban Horticulture and Design (1). The 20 adventurers – five cross-discipline teams with four members each – had two-and-a-half days to conceive and create their projects, with Amazon Design Leaders serving as mentors. FSC faculty and administrators judged the work.
"The Amazon Design Challenge was an exciting opportunity for Farmingdale students to work in interdisciplinary groups to build meaningful structure from ambiguity," said Dr. Edmund Douglass, chair of STS. "Each student brought their own unique perspective and expertise to the table resulting in a more comprehensive approach to problem solving."
Added Professor Brian O'Keefe, Interaction Design: "Not only were our students able to adapt, design, and envision new customer experiences alongside Amazon, our students demonstrated that they can design and develop emerging technologies, systems, and services."
First place – and $4,000 – went to Tree Huggers, for their project "Amazon Grow" – a lifeline for struggling transfer students. The $2,000 second prize went to the Liberators, for "TransSend" – which addresses needs of homeless members of the LGBT community. Other teams included the Kryptonians, "Amazon: Free Time"; Make Your Mark, "Day 1+"; and C&C, "Amazon Adventure: Experience Together." In addition to the top prizes, each student received $200 for participating.
"I'm so incredibly proud of the Farmingdale State students and their collaborative group presentations," said Cecilia Ambros, who holds a Bachelor of Technology in Visual Communications: Art & Graphic Design. "The Amazon team is grateful for the time, effort, and heart not only the students demonstrated, but the energy, sponsorship, and support from the staff, faculty, administrators, and President Nader."
Corey Dangel, Amazon's Executive Producer-Amazon Design Community Leader, summed it up this way: "The Amazon Design Community sponsors Design Challenges across the country, as part of a broadening outreach program. We partner with schools and universities demonstrating design leadership, either through their curriculum or their record of producing influential design thinkers. Tracing back the roots of one of our own leaders has brought us here: to Farmingdale."
AMAZON and the AMAZON logo are trademarks of Amazon.com, Inc. or its affiliates.