Pledge Now for 8th Annual Car Free Day Long Island
August 24, 2020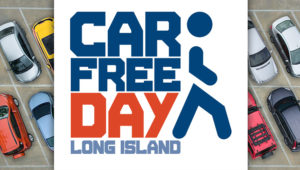 You can help make the 8th Annual Car Free Day Long Island a success by pledging to be car-free or car-lite at the Car Free Day LI website. Pledge by 9/25 and be entered in a raffle to win prizes, and help FSC win "bragging rights" by beating other Long Island colleges and universities in the number of pledges.
Raffle prizes for pledging include men's and women's bicycles; gift certificates to shop at Tanger Outlets; MetroCards; and designer handbags, donated by Roosevelt Field shopping mall.
Long Island will join more than 3,100 cities in 50 countries in celebrating Car Free Day on Friday, 9/25, when people are encouraged to move around without cars, and instead telecommute, ride a train, bus, walk, bicycle, van-pool or just drive less. Last year 5,821 Long Islanders pledged to be car-free or car-lite, saving over 64 tons of CO2 emissions.
Not sure how to be car free or car-lite? Visit How to Be Car Free for resources that can help, such as tips for finding a bike locker. Car Free Day is celebrated in different ways, with the common goal of taking cars off the road. Using cars less, by taking advantage of alternative transportation modes, builds awareness, reduces traffic, conserves energy, reduces harmful emissions, reduces parking problems, and saves money. Also visit 511NY Rideshare for help getting or giving a ride.
Celebrate Car Free Day LI with others. Download the Car Free Day LI Toolkit with celebration ideas, logos, flyers, posters, stickers, and more Car Free Day LI information.
Help spread the word about Car Free Day Long Island. Invite a friend to pledge, "like" on Facebook, or follow on Twitter. Have an innovative plan for travel or unique celebration idea? Send your plan or suggestions to info@carfreedayli.com.