THE HUB: Your Gateway to the Latest "Everything" on Campus
July 20, 2020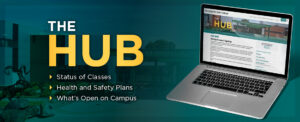 THE HUB – a brand-new addition to the FSC website and the resource for all the news you need to know about returning to campus for the fall semester – is live.
Students, faculty, and staff will have many questions in the days ahead, so THE HUB was created to be THE source of information about everything from financial aid, residence life, and distance-learning resources, to the campus bookstore, dining facilities, and student activities.
Also from THE HUB:
Status of classes
Up-to-the-minute details about health and safety precautions, such as COVID testing 7/27
What is open on campus
The latest messages to the campus
Much, much more
There is also a video message from President Nader on THE HUB.
THE HUB links from the FSC homepage and your dashboard. Take advantage of this invaluable resource and check back often for the latest information.