She Has a Covenant with Herself to Do Good
July 20, 2020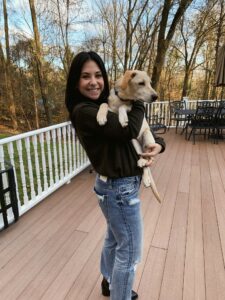 Elizabeth Rosen '19
FSC has an amazing track record in placing students in internships, which often lead to full-time jobs.
Such was the case with Elizabeth Rosen '19, Volunteer and Internship Coordinator at Covenant House New York. As a Professional Communications major, she was required to do an internship. She did it with Make-A-Wish, scheduling events, coordinating logistics, and sometimes joining children on their adventures. She especially loved it, because as Vice President for Philanthropy for Sigma Delta Tau, she nurtured a long-time passion for helping others that originated under the influence of her parents.
"It was kind of a snowball effect," Rosen says. "I really loved philanthropy and found it awesome how the position would give me the opportunity not only to give back, but hopefully engage other people in it as well."
Rosen transferred, as a sophomore, from Rutgers University to FSC in 2016. At Rutgers, she had been a member of Sigma Delta Tau, which she joined, she says, "to make a big school feel smaller." She chose Farmingdale because it was closer to her Long Island home, and because it had a Sigma Delta Tau chapter. She made an immediate impact, becoming president after serving in her vice president's role. Not only that, she achieved national recognition as Regene Freund Cohane Outstanding Chapter President, Sigma Delta Tau Outstanding Senior, and Sorority Woman of the Year. And she is still involved, as Chapter Advisor and National Recruitment Coordinator.
Rosen is now enrolled online at Northeastern University, in Boston, studying Nonprofit Management.
"I would love to work my way up in a non-profit. I love where I am now, and the mission behind the organization, which is super important to me. I don't think I'd be able to work for an organization where I didn't agree with the mission and feel passionate about it. I'd love to be in an executive role eventually."
And even with all that, Rosen recently founded a tie-dye clothing business, 4urdyesonly . She's good at it, she says, from having done it as a camp counselor. And in keeping with her life's work, the business is non-profit, with proceeds going to organizations battling COVID-19, and Black Lives Matter.
"Right now, I'm fortunate enough to be employed, and want to give back during such a difficult time," Rosen says.
It's obvious that giving back is a major part of who Rosen is. Thanks mom and dad.