Interaction Design Student Pitching Solar Energy
July 20, 2020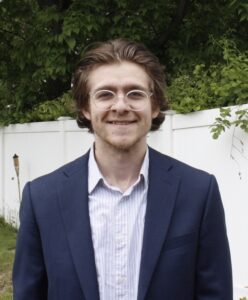 Stephen Garafola '21
What do you get when you cross an imaginative, passionate, teachable Interaction Design student with a self-described "progressive green person"?
Stephen Garafola '21, that's who.
Given that, Garafola is living a dream right now, working on a project advocating for residential solar energy. The project is so ambitious, in fact, that it has FSC's Social Science Research Institute and the Renewable Energy and Sustainability Center, partnering with the U.S. Green Building Council, Long Island chapter.
Garafola's involvement in the project began in Visual Communications Professor Allison Puff's Design for Social Change course. He was part of a four-person team, and acting team leader.
"We started from the foundations up, developing empathy for 'clean-energy dreamers' – those who do not have the particular infrastructure or financial means for roof-top solar systems. Our team focused on Community Solar, a form of localized energy generation and distribution that ultimately needs community and public support to thrive. Our goal was to cohesively describe what Community Solar is, how it works, and the benefits that come with it apart from rooftop solar systems."
And as a self-professed "greenie," Garafola found himself invested in a project in a way that hadn't happened before.
"I am no expert, but I believe that sustainable energy can propel society forward, away from the disastrous effects of global warming, and other unprecedented issues that follow. I think local communities have a huge role in moving the movement forward."
"He is very creative and talented," says Professor Marj Issapour, director of the Renewable Energy and Sustainability Center. "His work is significant in terms of the social justice aspects of renewables and community involvement."
It was Professor Issapour who introduced Garafola to Eva Pearson, program director with the Social Science Research Institute. This cross-pollination is the first of its kind at FSC, and has allowed Garafola to extend his work advocating for clean energy into the summer.
"My main goal during this internship is to branch out the Interaction Design program with the SSRI, USGBC-LI, and Renewable Energy and Sustainability Center, so that future students have a more obvious option to work with these organizations if they choose. There is a ton of opportunity for problem-solving and design in clean-energy education. I hope that as more students reach the Design for Social Change course, the industry experts I worked with will have new problems for them to solve."
Garafola is a member of a group that will be the first to earn a degree in Interaction Design. The SSRI internship has opened doors that must be the envy of his colleagues, but it is Garafola who has taken advantage of an opportunity to extend the boundaries of his Interaction Design training.
"My goal is to create new experiences for the renewable energy movement, by utilizing web design skills and augmented reality as a threshold between the U.S. Green Building Council Long Island and the Renewable Energy and Sustainability Center at Farmingdale State College."
Given his track record of success, Garafola's goal is well within reach.