She Does It All… And It's All First Class
June 16, 2020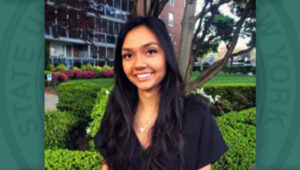 There are people who keep busy, known as busy bees. Then there are the all-out go-getters. Sana Tariq '22 is among the latter.
Tariq, a Health Promotion and Wellness major, is the kind of person that makes a vivid impression on the people around her. Take Kristy Nix, head Women's Volleyball Coach and Life Skills Coordinator, who knows her as well as anyone.
"Sana has been very involved and passionate as an Orientation Leader, Rambassador, Residence Life Assistant, and my volleyball team manager. She is what an FSC leader is all about – very involved in all aspects of Farmingdale, striving to make the student experience a great one. She puts her best foot forward, and is a friendly and outgoing student willing to go out of her way to help anyone who needs it."
Hearing Nix talk about Tariq, it's unmistakable that FSC is fortunate to have her on campus.
"I chose FSC because it was close to home, and had many different programs that I was interested in," Tariq says. "There are a multitude of educational opportunities for each student, which I admire."
Tariq was particularly attracted to the Health Promotion and Wellness program, because she is leaning toward a career in healthcare. In 2018, she interned with a dentist, and now has her sites set on working at a hospital, private clinic, nursing home – even health education. She plans to pursue a Master's in Education after she graduates.
Tariq has impressed not only Nix, but the staff that oversees the residence halls. Last semester she was named RA Programmer of the Year – quite an accomplishment for a first-year RA.
Tariq is also a top-notch student, who like only an elite few, can handle both classwork and volunteering. She has a formula that works for her.
"I use my time wisely. Time management is the key to my success. I usually write out on my calendar, work days, exam days, important due dates, meetings, RA duty, even celebrations, all in color coordination to keep myself organized. While having a busy schedule I also have to squeeze in some time for myself, such as going to the gym."
And anyone who knows Tariq, knows she has a high-energy motivation motor.
"The main thing that drives me are my parents, my goals, and ambitions. When I was going through elementary/middle school I worked very hard to work my way up. I struggled with common-core classes when I was younger, but with the support of my parents I was able to get to where I am today."
Tariq is also motivated to do community work, having helped at Toys for Tots and Relay for Life.
"Being a part of community service is very rewarding. It feels better knowing you're helping people and organizations that are in dire need. It only takes lending a hand to make a change in an individual's life."
All in all, it doesn't seem enough to call Tariq a go-getter. How about over-achiever, dynamo, or live wire? Better yet, all of the above.