P-TECH Program Graduates Cohort 1
June 16, 2020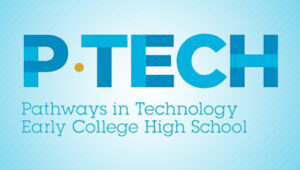 FSC, along with the Uniondale School District, Freeport Union-Free School District, and Wyandanch School District, were awarded a
P-TECH grant in 2013. The project is known as the Long Island Pathways in Technology Early College High School program (LI P-TECH), and is a six-year early-college career and technical education program.
This spring, the first P-TECH cohort of 12 students graduated, with an AAS degree in Mechanical Engineering Technology. One more student graduates in August.
The program is offered at no cost to students. They begin the six-year program in 9th grade, and in 10th grade take their first concurrent enrollment classes. By the end of the fourth year they will have completed the coursework necessary to earn a high school Regents Diploma, and 18 college credits towards an AAS.
Dr. Francine Federman, Assistant Dean of College-High School Programs, says "As someone who has been involved since the initial planning of this program back in 2013, I am so excited to see the students of Cohort 1 achieve this milestone. This has been the culmination of years of collaboration between FSC, the partner secondary schools, and our industry partners."