Cheers, Balloons, and Broad Smiles at CAR-Mencement
June 16, 2020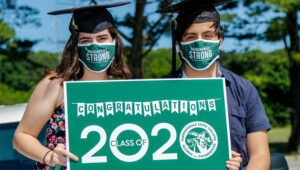 More than 400 graduates – in vehicles decorated from floorboard to rooftop and packed with family and friends – celebrated CAR-Mencement on Saturday, 6/13.
A sign on STS graduate Dominique Calvacca's car screamed "It's My Birthday!" Another, with a dental hygiene graduate inside, said "Live Life to the Maxillary." A third, which may have expressed the theme of the day, said "Have big dreams. You'll grow into them."
One vehicle that took everyone by surprise was a white stretch limo with Bioscience grad Bronte C. Paul inside, with her mother and sister. The Alumni Association handed out gift bags containing programs, caps and tassels, lawn signs, and appropriately, face masks with "Farmingdale Strong" printed on them.
More than 150 faculty and staff lined the roadway, cheering as graduates paraded by the President's house, where Dr.Nader read their names. It was an hour before the last name was read – and the last car horn honked out a proud tune.
Catch the action on YouTube, by videographer José F. Donneys, from the Office for Institutional Advancement.