Working at Home? Better Read This
June 1, 2020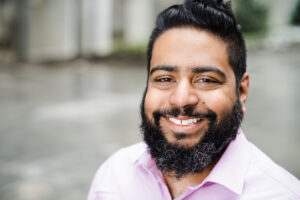 Dr. Sy Islam
Working from home has been the reality for FSC faculty and staff for nearly three months now. And if you're struggling to make it work, Dr. Sy Islam, associate professor of Industrial Organizational Psychology, has some tips to help you cope.
This Thursday, 6/4, 1 – 2 p.m., Dr. Islam will be featured in a webinar titled "Managing Remote Work: Tips for Thriving and Surviving Work from Home." To tune in to this free Zoom event, you must register by tomorrow, 6/3. The webinar is free, and sponsored by the University of Maryland.
Dr. Islam describes the webinar this way: "During these unprecedented times, many Americans have taken on multiple roles within their own homes: employee, parent, caregiver, teacher. While confined during stay-at-home orders, people are finding themselves confined to their homes and bringing all their roles with them."
The webinar will also have a Q&A session.
"People who are struggling to balance their new lives at home should attend to learn how to manage," Dr. Islam says. "Most of all, we're here to provide some new ideas about our new reality."
Dr. Islam is also co-founder and Vice President of Consulting with Talent Metrics, a management consulting firm focused on helping organizations improve through an emphasis on current performance and future strategy.