Curbside Celebration for RAM Program Graduates
June 1, 2020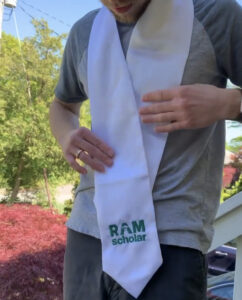 The RAM Program staff and their students are a close-knit group. One of the tightest on campus, in fact. So, what did the RAM staff, led by Dr. Erwin Cabrera, do when commencement was postponed? Imaginatively, they decided to bring a little bit of celebration directly to their graduates.
They did it with RAM Graduation Caravans, a novel idea that included drive-bys of more than 40 students' homes, horns honking and "Pomp and Circumstance" blaring, cars painted with well wishes, signs, banners, and stoles for each graduate.
The occasion was especially joyful because Dr. Cabrera and company were saying goodbye to the RAM Program's first graduating class.
These students will be back at FSC when commencement plans are finalized, but in the meantime, they were overwhelmed at being honored on their front lawns.
Jacquelyn Haft, a Bioscience student, was especially touched, because of her devotion to the RAM Program.
"I had plans of transferring when I first came to Farmingdale, but the attention and care that the RAM Program provided me kept me here. I had found people who truly believed in me and wanted to help me succeed, and knew that I could. I couldn't leave that. The drive-by is a true testament to how much the RAM staff cares for their students, and I couldn't be more thankful to be a part of it."
Deanna Esposito, a Business Management graduate, was similarly stirred.
"When I heard about the drive-by, I felt so touched and appreciated. It was very rewarding to still be celebrating around the time I had planned on, while the feeling of success for finishing school was still fresh. The actual event was so lovely, and my parents were very excited to see me get some celebration from Farmingdale. I will look back on the drive-by fondly."