Architecture and Construction Management Students Present Online
June 1, 2020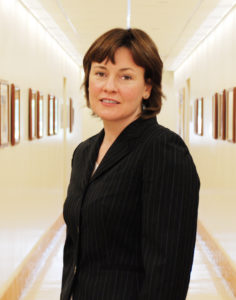 Professor Orla LoPiccolo
As virtual meetings go, FSC has never seen anything like it. Neither had Professor Orla LoPiccolo, chair of the Department of Architecture and Construction Management, who managed the 80-person event.
"I have to say that keeping track of five different Google Meets at one time was a bit like leading an orchestra!" she says.
The occasion – the brainchild of Professor Eric Anderson – was a virtual presentation of class projects by 45 Architecture and Construction Management students, critiqued by more than 30 members of the LI chapter of the AIA , an architecture industry trade association.
"The review of student projects by local architectural professionals allows students to refine the design and presentation skills they will need when they seek employment with our regional architectural firms," says Anderson.
Students presented drawings assigned them by Professor LoPiccolo, and adjunct Professors Gary Bruno and Katherine Stone, for Architectural Design II, Architectural Design III, and Architectural Design IV. One project was to design a gallery space at the site of the old campus bookstore. Multi-family housing and a fire house were the others.
"Architects are problem solvers, and this situation provided just one more opportunity to sharpen our skills," says Stone.
Skills were top of mind for AIA architect Martin Hero, who was effusive in his praise of student Stephany Marin's designs.
"If Stephany lived in Westchester, I'd hire her in a heartbeat."
"It is always a benefit for students to present their work to professionals in the field," LoPiccolo says. "I am very appreciative to everyone involved who did what they had to do to make it work. It was very successful."