Four Students Win SUNY Award
May 18, 2020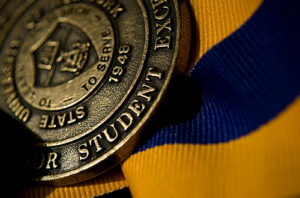 Four FSC students have won the coveted Chancellor's Award for Student Excellence.
The Chancellor's Award for Student Excellence was created in 1997 to recognize students who have best demonstrated, and been recognized for, the integration of academic excellence with accomplishments in the areas of leadership, athletics, community service, creative and performing arts, campus involvement, or career achievement.
The winners are:
Nicholas Ferrigno '19, Computer Programming and Information Systems
Ferrigno was the December 2019 class valedictorian. He is a member of the Golden Key Honor Society and appeared on the President's List every semester. He also earned a scholarship from the Order of Sons of Italy in America for academic excellence and service. Active in the community, he volunteers at events that benefit special-needs children, as well as the American Cancer Society, Alzheimer's Association, and disaster relief.
Maria Turbi Henderson '20, Bioscience
Complementing her academic achievements, Henderson performs at a high level while working as a physical therapy aide; volunteering at a nursing home; conducting cancer research; and orchestrating community service activities. Henderson wants to attend medical school, and work with at-risk and under-insured patients. At FSC, she is a CSTEP student, volunteers as a tutor, and organizes study groups for upper-level biology courses. " I am humbled, blessed, and honored by winning this award! It truly shows me that success is the fruit of hard work and persistence."
 David Ramirez '20, Computer Programming and Information Systems
In addition to his impressive academic record, Ramirez is also in a leadership role with the RAM Program. He earned scholarships from the Farmingdale College Foundation and Student Government Association, and volunteered at the STEM Diversity Summit and SUNY Undergraduate Research Conference. Ramirez was chosen for a nationally competitive internship at Nature's Bounty Co., working on full-stack development of a business-branded website, and an analytics project. "My college career has had its fair share of challenges, but I've seen that a major key to overcoming them is to remember, as my mother always said, 'hard work pays off.' That saying is certainly true for the Chancellor's Award for Student Excellence."
Garrett Spurlin '20, Aviation Administration
Spurlin is a USMC veteran, who works closely with other student-veterans, helping acclimate them to college and civilian life. During his service, he was awarded the Global War on Terror Expeditionary Medal and Naval Achievement Medal. He is known around campus as bright, confident, kind, respectful, and selfless. Spurlin has appeared on the Dean's or President's lists each semester. "I feel very honored to win the SUNY Chancellor's Award for Student Excellence, but I wouldn't be in the position I am in without the firm support of my family, friends, and faculty members. They gave me the guidance, support, and knowledge that allowed me to succeed. While it is my name on the award, it is their award as well."