Senior Project Design Expo… Virtually Speaking
May 11, 2020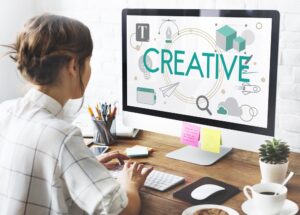 The Campus Center and Memorial Gallery are closed, but that's not stopping the Senior Project Virtual Design Expo – an online-only exhibition highlighting the work of  38 graduating students from the Visual Communications Department.
The event launches on this website, Tuesday, May 19, noon – 11:30 p.m.
Thirty-eight commercially viable projects executed through graphic, interactive, web, and product design will be shown. Viewers will see the artists' work, creative process, and future aspirations. The virtual expo offers a glimpse into how students have responded to the pandemic, by creating a purely digital learning environment.
"We thought that instead of simply canceling the expo, we could celebrate the culmination of their work by being creative and having them share their work digitally, touching those across the globe right from the comfort of home," says Donna Proper, associate professor in the department.
See the Facebook invitation:  https://www.facebook.com/events/224296898994981
Links to samples:
https://www.youtube.com/watch?v=GHleae_Rwuk&feature=youtu.be
https://www.youtube.com/watch?v=OuCgpdPfBUc&feature=youtu.be
https://www.youtube.com/watch?v=Y714g9u5p64&feature=youtu.be
https://www.atlasthegreekoutlet.com/
For more information, contact Professors Donna Proper or Kim Wild.
Click here for the event flyer.