VisCom Grad Amanda Reilly '13 Mounts First Solo Exhibition
February 24, 2020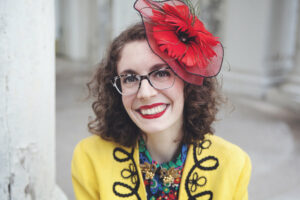 Amanda Reilly '13
"My time at Farmingdale State College was incredible. The VisCom program and its professors helped shape my career as a designer and illustrator," says Amanda Reilly '13. "Without them I certainly wouldn't be where I am today."
Where Reilly is today is on the verge of her first solo exhibition, "Human Nature." You can see it at Muñeca Arthouse, 12 So. Ocean Avenue, Patchogue. The opening reception is Saturday, 3/7, 6 – 9 p.m., and the exhibition runs through April.
During her time at FSC, Reilly earned Magna Cum Laude honors, and the Student Award for Academic Excellence. Speaking from her own experiences for this exhibition, Reilly strives to communicate mankind's emotional faults.
"Nobody is perfect. We act on our emotional inhibitions. It's what makes us grounded as humans, but also makes us monsters capable of ruin. I think somehow, in some form or another, we are reminded of this every day.
"When you're covering such harsh topics like opportunism, two-faced jealousy, hatred, and more, it's important to me to tackle these subjects with loud, bold colors, forms filled with suspense, and sharp vibrating lines. I feel it is a tactful way in displaying such mayhem."
Human bodies take forms such as scorpions and exoskeleton creatures, whose pincers and horns wreak havoc in their path. Guilt, anger, and narcissism pour out of orifices of their half-human, half-monster mutant vessels. Masks skew the identities of two-faced beings that revel in their own demise and predicaments. Half-human insect creatures that have flown too close to a flame display it on their wings, while their determined jealous demeanors keep committing them to do so. Reilly hopes her audience will dive deep within themselves to connect with the various symbols showcased throughout this exhibition, which features an array of mixed-media works, including paintings, ink drawings, and moving images.
"The professors in the Visual Communications program were so supportive and wonderful," Reilly says. "The range of disciplines offered in the program were diverse. My work became more illustrative over the years I attended the program, and because of that some professors who had a background in illustration offered to independently mentor me. In 2012, while in the program and under the mentorship of a professor, I was awarded a spot in the Society Of Illustrators Student Scholarship competition. The last time a student at Farmingdale State College got accepted into that show was more than 20 years ago."
Now Reilly is on the verge of a career milestone. Largely thanks to the program and professors she enjoyed at FSC.