Carnegie Foundation Awards FSC the 2020 Carnegie Community Engagement Classification
February 3, 2020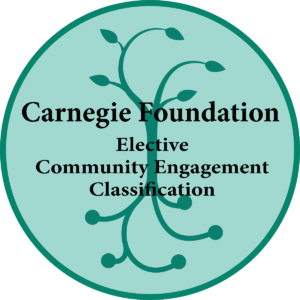 The Carnegie Foundation has announced that Farmingdale State College is one of 119 U.S. colleges and universities to receive the 2020 Carnegie Community Engagement Classification, an elective designation indicating institutional commitment to community engagement.
With the classification, Farmingdale is the only SUNY school on Long Island, and one of only two academic institutions on the Island to be so honored. FSC is now one of nine SUNY schools to currently hold this designation.
Only 359 colleges and universities, in 37 states and U.S. territories, hold this award, representing only 10% of all academic institutions. Farmingdale is one of only 44 schools recognized for the first time.
The classification is awarded following a process of institutional self-study, which is then assessed by a national review committee led by the Swearer Center for Public Engagement at Brown University, the administrative and research home for the Carnegie Community Engagement Classification.
"These newly-classified and re-classified institutions are doing exceptional work to forward their public purpose in and through community engagement that enriches teaching and research while also benefiting the broader community," says Mathew Johnson, executive director of the Swearer Center.
"It is a tremendous achievement to earn the Elective Carnegie Community Engagement Classification endorsement," says President Nader. "Our faculty and staff have invested enormous efforts to engage our students with leading firms and non-profit institutions."
One of the categories Farmingdale had to fulfill was to demonstrate the depth and breadth of interactive partnerships that indicate reciprocity and mutual benefit. Among those are:
School of Business, Department of Urban Horticulture – Landscape Development students participated in a service-learning opportunity to create a Sensory Garden at Clark Botanic Garden.
School of Arts & Sciences, Social Science Research Institute – Students from several disciplines participate in social-justice internships at local community organizations, such as Erase Racism and Family Service League.
School of Engineering Technology, Renewable Energy and Sustainability Center – Training is provided to develop a robust workforce-training program to meet the needs of the clean-energy industry.
School of Health Sciences, Department of Dental Hygiene – "Give Kids a Smile" offers hundreds of children free oral health care, provided by students and faculty.
Farmingdale State College – Farmingdale has provided a one-half acre parcel of land to Island Harvest, to grow produce for food-insecure Long Island families. Student and faculty volunteers participate in the program.
"Community engagement opportunities can be life-changing for our students," says President Nader. "The Carnegie Classification affirms the College's dedication to student success and to our engagement in the Long Island region."
Says Allison Puff, Academic Program Manager in the Provost's Office: "This classification recognizes FSC's strong culture of civic responsibility and engaged learning, which has led to incredible partnerships with Long Island institutions such as D3LLC, PSEG, Island Harvest, Henry Schein, Habitat for Humanity, and the Asthma Coalition of Long Island. All our partnerships allow FSC to provide quality learning experiences for students, and give something back to the Long Island community.
"It would be impossible for the College to have earned such an honor without the hard work and dedication of the entire institution. Due to the extensive nature of the application, which included everything from academics to business practices, a committee of 21 faculty and staff worked for over a year to collect the information and complete the application. It was rewarding work that allowed each of us to really understand the breadth and depth of the amazing community engagement that happens all across the campus and beyond."
Of the 119 institutions classified in 2020, 44 have been recognized for the first time, and 75 have been re-classified, from the 2010 and 2015 cycles. These 119 institutions join another 240 that earned the classification during the 2015 selection process, for a total of 359 campuses that are holders of this designation. Among the 2020 recipients of the classification, 67 are public institutions and 52 are private. For Carnegie's Basic Classification, 52 are classified as research universities, 39 are Master's colleges and universities, 22 are baccalaureate colleges, three are community colleges, and three have a specialized focus—arts, medicine, and other health professions. These institutions represent campuses in 37 states and U.S. territories.