Gun Violence Inspires Article Being Published in The New York Times
December 9, 2019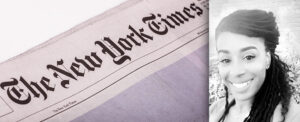 Shamecqua Moore
Shamecqua Moore '20 has been writing since she was a teenager. Notebooks filled with ideas for books she wants to write. Publishing a book – she is working on 3 of them – is down the road, but for now Shamecqua is flying in the rarified atmosphere of being published in The New York Times.
Moore – a Professional Communications major, member of the Dean's List, and first-generation student – did it by winning second prize in a writing contest, with an essay about how citizens can contribute to the campaign against gun violence. The essay began as a classroom writing assignment, and Moore had the option of entering it in the contest. She almost didn't take it.
"I was very insecure at first. I mean, it's The New York Times. After sharing my insecurities with my professor, she encouraged me to enter the contest. I had to change my mindset. I began telling myself that I can actually win this, and that all things are possible. Besides, what matters most, Meme, is that you put your best effort forward."
Moore was inspired to write her article – "Nobody's game: Gun violence while politicians play the blame game" – by her deep compassion for families affected by gun violence, and the ongoing inability of Washington politicians to intelligently address the issue.
"The article addresses the behaviors of politicians who must inspire U.S. citizens to be more attentive to public affairs, and think more deeply about our democracy. The article states the lack of balance between the representatives, and why. It states that both Democrats and Republicans should be equally to blame and held responsible for not coming up with a viable solution on gun control."
In the letter from The Times announcing the award, it said: "Your thought-provoking essay did an exceptional job of addressing what it means to be civically and politically informed and engaged. Your understanding of, and articulation of a complex issue and your call for 'society to be involved in political matters by becoming educated; and put their beliefs into action by attending city council meetings, voting and encouraging others to vote' is inspiring. You are a shining representative of your institution."
"I am ecstatic about winning the award," Moore says. "A huge accomplishment for me. For me, it's so personal because I place so many boundaries on myself. This win inspired me to never place any more boundaries on myself, and that all things are really possible."
Moore first had the urge to write as a teenager, inspired, she says, by her journey from childhood to teen years. She is ambitious, currently working on three books: one with a religious/inspirational theme; a memoir; and mystery novel. She is also working on an even bigger project: developing a nonprofit for women in distress.
"My organization comes from a Christian-based background, more like a Christian charity. I'm inspired to give back to the communities and help those in need. In the near future, I expect to open a women's transitional home. Not your average transitional home. There will be unique milestones created for the women to overcome any opposition, that may have deterred them from walking into their destiny.
"As the organization expands, I will offer the same services to men, children, and families."
The writing contest was sponsored by The Times, AASCU  (American Association of State Colleges and Universities), and the American Democracy Project. The article has not yet been published.