Art Professor's 1995 Painting Now a 2019 Book Cover
December 2, 2019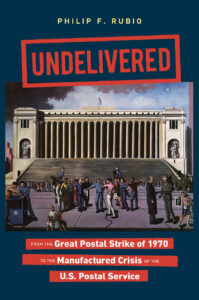 In 1970, New York City postal workers – fed up with low wages – called a wildcat strike. It lasted eight days, and caused such an uproar that by the time it ended, postal workers in 30 other cities had walked off their jobs too.
It ended well for postal workers, who received 14% in pay increases before the year ended.
Now comes Undelivered: From the Great Postal Strike of 1970 to the Manufactured Crisis of the U.S. Postal Service, a book by Philip F. Rubio, professor of history at North Carolina A&T State University, that chronicles the events of 1970 and connects them to the financial crisis the U.S. Postal Service has endured for years.
But, you ask, what does this have to do with FSC? Everything, if you love the artwork of Professor Thomas Germano, whose 1995 painting, The Great Postal Strike, 1970, is the book's cover art. It's a perfect fit too, because Professor Germano, even as a young boy at the time, was intimately involved in the historic event.
"My father, uncle, godfather, and grandfather were all employed by the post office in NYC in 1970. The strike was a vivid memory in my early childhood.
"My father was personally instrumental in organizing the very first strike against the U.S. government. As a child, I vividly remember hearing that he may go to jail, but in his heart he believed he was doing the right thing to improve the working conditions for all postal employees."
Fast-forward 25 years, and The Great Postal Strike, 1970 was made into a 24 x 30-inch lithograph print. Copies were distributed to hundreds of postal unions, museums, and education institutions in all 50 states and Puerto Rico. With that kind of exposure, it's easy to understand how the painting became a book cover.
But Professor Germano's love affair with the labor movement didn't end there. He's now at work on 15 paintings for a book about the 1913 Patterson, NJ silk workers strike.
"I was raised with a strong sense of social justice. Today, with unions under threat by aggressive attacks coming from corporate factions who would prefer to negotiate with non-union employees, unions serve a more important role than ever before."
Click here to see more of Professor Germano's work.