Student Drives Food Drive to Overwhelming Success
November 25, 2019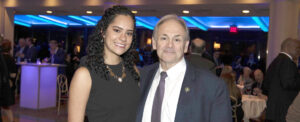 Sonia Chemerisov and President Nader
Food drives are not uncommon at Farmingdale State College. Some are more successful than others, of course. But the one just completed for the Thanksgiving holiday was uncommonly successful.
She'll be the first to tell you she had scads of help, but the event was the brainchild of Sonia Chemerisov '21, a CSTEP student and Bioscience major who has a heart and soul for giving back. And as a volunteer at a local food-share program, there are few on campus with the know-how and drive to have pulled off this food drive.
"I wanted to do more than just volunteer," Sonia says. "Every week, the food share brings food for us to distribute to needy people and families. I wanted to take on a more involved role by collecting food for people who need it. I belong to several campus organizations and thought of having a collective food drive.
"We always think of the holidays as happy times, and visualize everybody running around, getting ready for big dinners and buying gifts for their loved ones. Sometimes we forget about the other end of the spectrum, and that holidays can be the most difficult times for some individuals."
Sonia is not only dedicated; she is creative as well. A member of the CSTEP advisory board, she presented her idea and got immediate buy-in. Then she went a step further and recruited students from the RAM (Research Aligned Mentorship) and TRIO programs. She also reached out to other departments on campus.
Then she had a brilliant idea.
"In CSTEP, we are all STEM majors and tend to be competitive at times, so I came up with an idea as an incentive to get students to donate. We created a system for people who donate to earn points for items they donated, or for money they gave to buy items for the drive. Everyone who donated was entered on a board in the CSTEP office, and the student who earned the most amount points by the end of the drive won a prize."
Even with all this going on, Sonia excels at her studies, and is a member of other campus groups. She's a regular on the President's List; vice president of the Golden Key Honour Society; and a member of both the Pre-Dental Society (she wants to be a dentist) and Resident Assistant Advisory Board. This semester she received one of the highest honors bestowed on an FSC student: the Farmingdale College Foundation's President's Award for Student Leadership.
The drive collected $1,000 worth of food, which has been donated to St. Kilian's Church, a Farmingdale neighbor and long-time friend of the College.
"Last year, when two Farmingdale students lost their father and home in a fire, St. Kilian's provided them with food, clothes, and household items. I felt that since the Farmingdale community supports us, it was only fitting that we should give back to them."
Giving back: it's what Sonia Chemerisov is about.