FSC Alumna Off into the Wild Blue Yonder
August 19, 2019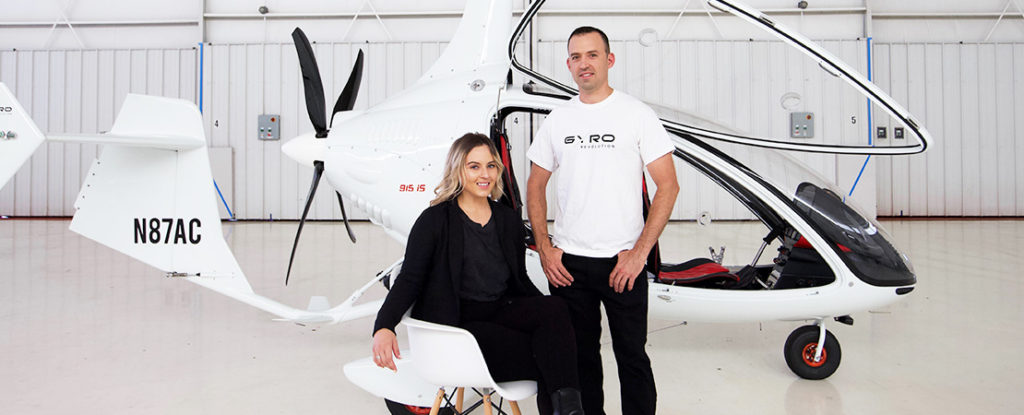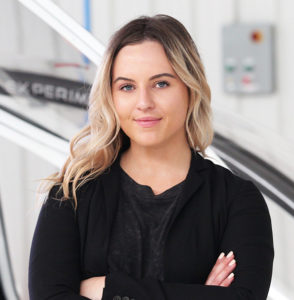 Kristen Steinhardt
Can a visual communications degree prepare a person for a CEO position in the aviation industry? If your answer is no, then you don't know Kristen Steinhardt.
Steinhardt, a Spring '19 graduate, is CEO (the youngest in the industry) and part owner of Gyro Revolution, a start-up dedicated to selling two-passenger gyroplanes and providing flight services in a market that is wide open in the Northeast. The company is based at Long Island's MacArthur Airport.
Gyroplanes – also known as gyrocopters or autogyros – are recreational vehicles used mainly for leisure travel. Prices start at $95,000 and run as much as $145,000. They can reach speeds as high as 120 mph, and are highly fuel efficient, burning 3-5 gallons of fuel an hour (a small turboprop burns about 65 gallons/hr.). Their range is 300-500 miles. Gyro Revolution also offers what they call "discovery flights," which last from 15 minutes to an hour. Pricing ranges from $100 to $220.
"The market for gyroplanes is growing rapidly in the United States, and with our presence I believe we will become one of the leaders of recreational flight on Long Island and the USA," Steinhardt says. "We have a long road ahead of us. To succeed we are going to follow our mission to create a community, bring in the most innovative products, and provide excellent training and superior customer service. We will also focus on networking with the aviation community and producing strategic marketing campaigns to engage and educate the public."
And guess who's going to create those marketing campaigns, thanks to her education at FSC: Steinhardt.
"My degree gives me the opportunity to pursue an occupation in many different industries. You can become a marketing professional, an art director, photographer, graphic designer, ux/ui designer, etc. The degree requires you to take classes in all of these subjects. So when you graduate you actually have the skills to start your own business, brand it and market it, or be a valuable asset to an organization. Having all of these skills has saved me thousands of dollars. When I started the company I didn't have to hire a web designer, a photographer, a social media strategist, or graphic designer. I did everything myself to get the company up and running."

Steinhardt's partner and company COO is Robert Lutz, who himself has an FSC connection. He was a lecturer and flight instructor in the Aviation Department in 2003 – 2005, and has been flying since he was 13. He is an airline transport pilot, with experience flying everything from helicopters to seaplanes. He has logged more than 8,000 flying hours.
"The discipline and professionalism I learned at Farmingdale certainly helped prepare me for being a part of, and creating, a professional aviation organization. Discovering gyroplanes made me fall in love with flying all over again. It makes me completely giddy every time I fly one."
Steinhardt was an outstanding student, graduating with a 3.9 GPA and appearing twice on the President's List.
"Farmingdale State College was the best decision for me. I have been working since I was 15, and needed a college that was local to Long Island, would have flexible class hours, and of course, a great education. The classes I took in business and design were intense and at times overwhelming but they helped me expand my skillset and prepared me for the real world. I learned much from my professors, who are all industry professionals and very dedicated to their work and supportive towards their students."

But Steinhardt didn't wait until graduating to begin pursuing her dream. While at school she and Lutz visited four countries and 11 states to research the gyroplane.
"When people told me I was crazy, it pushed me harder to keep going. When you have a dream and a vision, make it happen. When people doubt you, prove them wrong and exceed even your own expectations. Think smarter, work harder, and work longer than anyone else. When you stay focused and stay hungry you start to see results."