Veteran/FSC Alum Given New House for His Service
July 8, 2019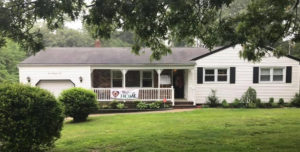 Kevin Palacios' new home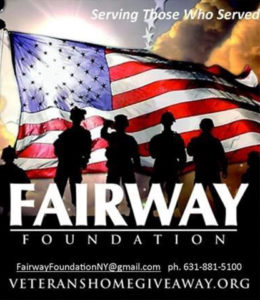 FSC alum Kevin Palacios '16 served in the U.S. Marine Corps from 2008 – 2012. During that time he did two tours in Afghanistan, where he earned the Purple Heart. Little did he know when he came home that his life as a Marine would intersect with a philanthropic organization's plan to give a retired veteran who had been wounded in combat a brand new house.
That recently happened to Palacios, who was given the house, in Brookhaven, LI, by the Fairway Foundation Inc., a national not-for-profit dedicated to helping and advocating for veterans in need. It was a complete surprise to Palacios, who had no idea he was about to become a homeowner when he attended a seminar for realtors about how they could help the veteran community. At the end of the event came the big reveal, which left Palacios – who was chosen from among two dozen of his peers – speechless and in tears.
"I feel blessed, thankful, grateful, honored, and all the words anyone can imagine," Palacios said. "But in reality, ever since I got out of the Marines I have been fighting something that there is no explanation for, and receiving the house kind of made me feel like I won a battle against it."
A single parent, Palacios was especially grateful that he would have something to one day give to his son.
"I won a battle where my son can grow old and have something secure for his future. So this is for my son."
The Fairway Foundation's donation was a five-year project of fundraising and recruiting help from the Long Island realty, construction, and interior design community. Led by Steve Probst and Rosemarie Kluepfel – both employees of the Fairway Independent Mortgage Corporation, the driving force behind the Foundation – the LI Board of Realtors, Interior Design Society LI chapter, and National Association of the Remodeling Industry NYC/LI, all chipped in time, talent, and money.
"We can all do one thing to make a difference in the lives of veterans," Probst said. "One person can't do everything, but you can find one small way to make a difference."
Palacios enrolled at FSC in 2012, not long after leaving the service, and graduated in 2016 with a degree in sport management. Now, he is back on campus studying Science, Technology and Society, with a long-time goal of becoming a nurse.
"The reason for this is because I love helping, especially when it comes down to life-or-death situations. It gives me a thrill, and it's also a major passion to help a person in need."
Palacios credits Eric Farina, director of FSC's Veterans Services Office, for helping him stay the course during his first year here, when the ex-Marine felt he might not fit in.
"When I enrolled I did not know what to expect, but Eric made it seem very safe, and I felt like this was the place. He made sure I kept myself calm, because I was very nervous about not being accepted. But Eric, not once or twice but many times, kept telling me not to worry, and sure enough I was accepted, and from there on it was history."