A Sizzling Exhibit at Memorial Gallery
June 24, 2019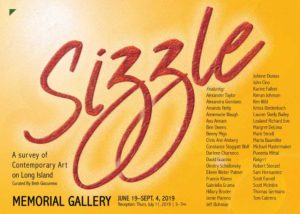 The Memorial Gallery in Hale Hall is hosting a summer exhibition featuring contemporary artists from Long Island. "SIZZLE: A Survey of Contemporary Art on Long Island," will be on view through 9/4. A reception for the artists will be held at the gallery, 7/11, from 5 – 7 p.m.
"SIZZLE" include works that vary in concept and medium. The 37 artists exhibited are engaged in contemporary creative practice, and live or work on Long Island.
Gallery hours are 9 a.m. – 4 p.m., weekdays. Admission is free.
For more information, contact Yolanda Segarra; 631-420-2180.
Help spread the word. Print and post this flyer.