RAM Students Built a Home and Bonded
May 28, 2019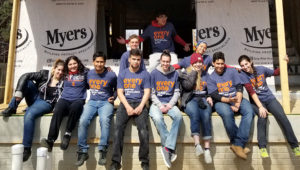 Like the Architectural Construction Technology club did earlier this year, RAM program students spent time during the spring semester working with Habitat for Humanity, a national organization that builds and improves living space for those in need of housing. The RAM experience was a little different though, in that its students gave up their spring break to travel to Pennsylvania to do the work.
The program – known as Alternative Spring Break – gathered 22 students to build a home for a single parent battling cancer. They also spent time  working in Habitat for Humanity's ReStore, the organization's version of a thrift shop, where repurposed building materials are sold.
"For many, this was the first time away from home and living with other students," said Dylan Gafarian, academic counselor for the RAM program, who organized the project with assistant director Dr. Erica J. Friedman. "Not only did we build a home for a family in need, but we built a stronger community for our RAM Scholars. A week of working and living together will certainly do that."
Angelique Roberson '21, a Business Management major, echoed Gafarian's take on the overall benefits of the trip.
"The trip was an amazing experience. It was a time where I was able to help and give back to the community. Not only that, I was able to connect with my fellow RAM peers and build a community and relationships that solidifies the true definition of RAMily."
Architecture and Construction Management major Sal Anteri '22, spoke about the practical aspects of the project.
"The biggest reason I went on this trip was to apply what I learned in my Construction Management Engineering Technology classes. Being able to see what you have learned in theory solidifies your understanding about the material that is taught."
The project is a prime example of FSC's commitment to applied learning, which this fall will be a requirement for all students. Gafarian sees the emphasis on working outside the classroom as crucial to a student's education, in a workforce that values hands-on experience.
"Service learning is key component to a student's success. It is important that our RAM Scholars see the communities that they will be impacting with the degrees they are earning here."
For more RAM student accomplishments, check out Spotlight.