Centennial Commencement a Once-in-a-Lifetime Celebration
May 28, 2019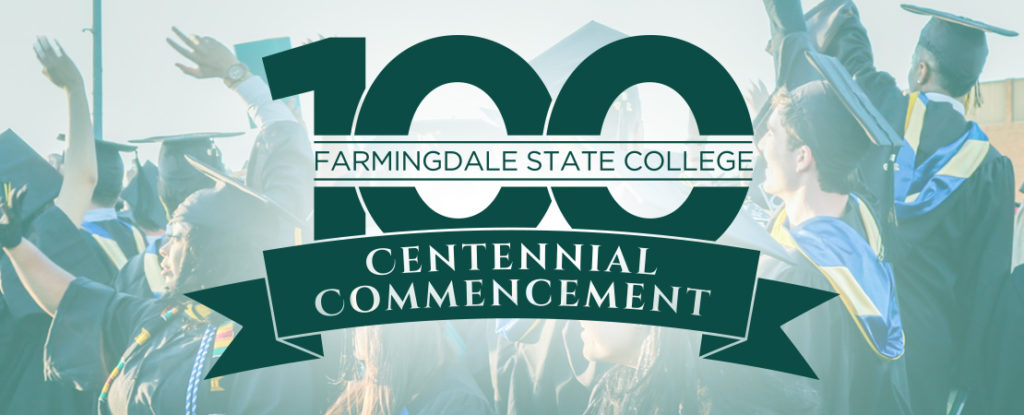 From the keynote address by SUNY Chancellor Kristina M. Johnson, to a fireworks display that ended the evening with a bang, FSC's Centennial Commencement was all one could have hoped for, and much, much more.
Most importantly, May 21, 2019 will go down in FSC history as maybe the most important event in its long and illustrious history. Among the highlights were the awarding of degrees and certificates to more than 1,000 graduates; the track and field complex overflowing with proud family and friends; a fly-over by the Flying Rams; a spectacular 20-minute fireworks display; and inspiring remarks by President Nader, Chancellor Johnson, and Valedictorian Jamie Jones.
In his remarks, President Nader told the assembled graduates there has never been a better time to be an FSC student, and that the 2019 class was the College's most impressive. He also said:
"When the State University of New York was founded 70 years ago, its initial motto was: Let each become all they are capable of. It spoke to the true mission of public higher education. As the first public college on Long Island, we have lived that motto and mission for over 100 years. There are countless people for whom Farmingdale State College was truly an engine of opportunity."
Chancellor Johnson spoke of three crucial values: optimism, kindness, and community. About optimism she spoke about her recovery, as a young woman, from cancer.
"As I recovered, I learned that being positive is a powerful force. And when positivity is combined with persistence – and you keep pushing and pushing – you can crack open any door."
Then she spoke about "disciplined kindness" as a way of "Being giving without expecting anything in return, even when it's not easy – and it pays off in unexpected ways. So graduates, keep your promises to the people you care about, even when it appears to cost you a little. You will gain integrity – and integrity is something people can spot miles away, and want to be around."
About community she explained, "Each of us can make a difference within our own arm-span, by deciding to do the right thing every day. And the cumulative effects of such disciplined citizenship can turn a community around."
Jones, who earned a degree in architectural engineering technology and was a member of the golf team, talked about the challenges he faced living 4,000 miles from his British home. "Over time, my confidence and my sense of independence have grown, along with my initiative to overcome the problems I am faced with.
"My message to you is to use this experience as a catalyst for your future, to continue to remain committed, to work hard, to push yourselves, and to strive for perfection. Farmingdale State College sets the perfect example of how to develop, to grow, and to always seek improvement."
To see the official FSC video of the event, click here.
For Centennial Commencement photos, visit this collection by Professor David Guarino, and Institutional Advancement's Jose Donneys and Doug Bouchelle.
For even more photos, go to the Island Photography page.