Parking Rules for When the PGA Championship Comes to Town
April 30, 2019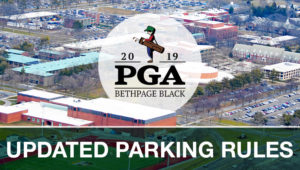 Message from University Police:
As you may know, Farmingdale State College has partnered with the PGA to facilitate the PGA Championship golf tournament being held at Bethpage State Park, Monday, 5/13 through Sunday, 5/19 (in the event of rain, the tournament may be extended to Monday, 5/20).
Please note the following regarding access to the campus and parking:
Students who need access to the bookstore, classrooms, offices, and other campus facilities the week of 5/13 will not be required to obtain a parking pass, but will need to present their Farmingdale ID to police so they can be admitted to the parking areas.
Access to the campus for Farmingdale State College faculty, staff, and students during the PGA Championship golf tournament 5/13 through 5/19 will be limited. All faculty, staff, and students will enter campus through the Melville Road entrance and park in lots 1, 2, 8, 9, 10, and 11. A diagram on the back of the parking pass details the locations of these parking lots. The PGA will be using all other parking areas on campus.
Faculty and staff currently issued a campus handicapped parking permit will be allowed to use handicapped parking spaces in close proximity to their buildings. Individuals currently parking in the parking lot by University Police are to access the campus from the Route 110 entrance.
Both the Melville Road and Route 110 entrances to the campus will have police check points controlling access to the campus. Individuals with authorized access to the area will have credentials allowing them through the control point. All others will be directed to park in the areas defined above.
Thank you for your cooperation.
Click here for the campus map.