Commencement Tix, Senior Portraits, Class Rings and More – All at the Grad Fair
April 24, 2019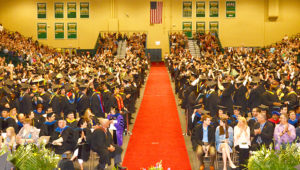 It's the Grad Fair, your place to one-stop-shop for commencement tickets, class rings, senior portraits, caps and gowns, and more. Don't miss this important pre-commencement event.
The Fair will be held in the Campus Center Ballroom, on two consecutive days: Wednesday, 4/24, 10 a.m. – 2 p.m., and resuming 3 – 7 p.m., and then again Thursday, 4/25, 10 a.m. – 3:30 p.m.
First, eligible graduates must have a valid Farmingdale student ID or other photo ID, in order to pick up tickets. Given the size of the graduating class, graduates are eligible for four tickets.
Also, check the Spring Commencement homepage for information about post-Grad Fair ticket distribution and all other important Centennial Commencement details.
In addition to securing tickets, you may sit for a formal portrait. Pre-register online, or make a portrait appointment Tuesday, 4/23, from 8 a.m. –
3 p.m., in Roosevelt Hall Room 111. Other Grad Fair activities include submitting a senior exit survey, providing updated alumni contact information, and purchasing caps and gowns. Class ring vendors will be showcasing various styles, and formal diploma frames will be available for purchase.
Help spread the word. Print and post this flyer.